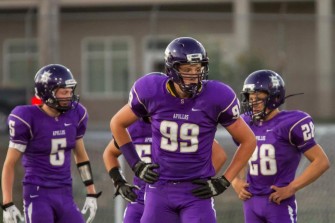 A school we have gotten to know well (Northern Colorado) over the last couple seasons did their homework, extending offers to two of the Northwest's top recruits on Friday. Washington top junior lineman Drew Clarkson (6-4 275 OL) of Camas, and Oregon 1st team all league TE/DE Josh Brown (6-6 245 Jr.) of Sunset, both landed there first offer from the upstart Big Sky School.
Clarkson comes back ranked one of our top 3 O lineman for the 2014 class, and has a host of Pac 12 schools interested as well. CAL has been doing a phenomenal job of recruiting the NW, as we relayed the interest from the Golden Bears to Drew last week.
Referencing the Northern Colorado offer he says, "It feels good to get the first offer and knowing that college is paid for is a really good feeling". He continued, "It's been my dream since third grade to play college ball and hopefully its the first of many".
Line coach and recruiting coordinator Chris Smith of UNC is one of the premier dual threat coaches in the country, and his ability to get to northwest early and offer top kids has been telling. Drew is a big time talent and will most likely have a plethora of options before all is said and done, but no one ever forgets who the first school to believe in them was.
Drew will lead a Camas team that could potentially come in nationally ranked, and the state's #1 team at the 4A level to start the season.
The Bears weren't done with Clarkson as they came in early on Sunset's Brown as well. Josh attended every elite event that we put on over the winter with the region's top athletes, and got better every week.
He earned 1st team all league honors at DE, and honorable mention honors as a TE in the state's toughest conference. You can't teach size and heart and Brown has a lot of both.
His ability as a Tight end became more and more apparent as the off season progressed, catching everything in site by the last workout. Taylor Barton said, " Josh is a kid, much like Sam Bodine, that I could see being that big time guy when all is said and done".
Regardless of where he ends up, Brown's upside is through the roof. He has been playing varsity football since his freshman season and could end up being one of the top players to ever come out of Sunset.
Brown will play for one of the best coaches in state history in Faustin Riley, and we look forward to bringing you updates on him and the Apollo's this off season.