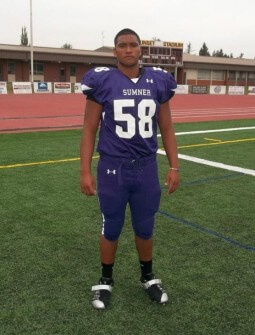 After a solid junior campaign that saw him rack up 137 tackles, 10 tackles-for-loss and four sacks while helping to lead his team to the state playoffs, Sumner (Wa.) DL Austin Striplin is already attracting the attention of college coaches.
"It was a good season for me individually and our team as a whole," Striplin told Northwest Elite Index recently. "We have been working hard this offseason and I took part in the Tanoa Bowl up here and overall, it's been a really good offseason with workouts and just staying focused on what we want to do as a team which is to win a championship."
While playing a hybrid linebacker/defensive end role for Sumner last fall, Striplin totaled 137 tackles, 10 tackles-for-loss and four sacks leading him to be named a First Team All-Conference player.
I get the ball quickly and I never give up," Striplin said. "I just love to play."
"He's a really strong, physical kid and he really gets after it," Sumner head coach Keith Ross told NEI during the season. "He's a special kid and we rely on him for leadership and to make plays."
On the recruiting front, things have started to pick up for Striplin over the past couple of weeks as schools like Eastern Washington, Central Washington and Washington State have all contacted him.
"I'm getting a lot of letters and I've spoken to them too," Striplin said. "It's been good so far, but honestly, I don't know much about all that stuff and I don't know how interested they really are at this point. They obviously know about me, but I don't have offers so, I'm really not sure."
"I have goals for myself and for my team that I want to focus on, so I'm not going to go to a lot of camps, but I will hit a few of them," Striplin said. "I want us to get deeper in the playoffs and have a chance at a championship and I want to be even better individually so I can help my team any way that I can. I want more sacks because that helps us more than anything else."
Striplin is definitely a player to keep an eye on over the next few months as he hits the camp circuit. Could he be a hidden gem in the Evergreen State? Only time will tell.