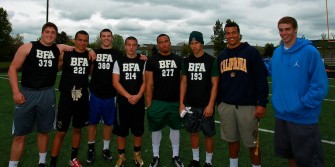 ** Complete positional breakdown coming tomorrow on NEI
Co-Overall MVP
Henry Mondeaux 6-5 245 Jr. TE/DE Jesuit – (OFFERS: Oregon, CAL, Oregon State, Washington)
One of the most high profile recruits in the country did his thing Sunday, impressing on both sides of the ball. Mondeaux tested very well and physically dominated from his D line position.
Its rare to see a kid as big as Henry be as versatile as he is, but this is one of the main reasons that the Ducks came in on him. Oregon likes him as a Dion Jordan Type athlete from a OLB/DE position.
You would be hard pressed to find a fiercer competitor then Mondeaux, as I see him having a very successful college and professional career.
Joey Alfieri 6-3 225 Jr. LB/RB Jesuit – (OFFERS: Stanford, Arizona, Arizona State, Washington, Washington State, Oregon State, Boston College, Harvard, Yale)
Alfieri is just a beast. His (4.52) 40 yard dash tied for 2nd among the 140 individuals at camp, and his shuttle ranked in the top 5. His god given instincts, and ability to accelerate at will, make him one of the top backers in the country.
Joey is an elite student and uses his smarts and overall athleticism to shut people down on the field. He will be a 1st team all league LB for three straight years, and the favorite for Oregon State Defensive POY honors next season, along with Mondeaux.
Offensive
Jordan Morgan 6-2 200 Jr. WR Southridge – (OFFERS: San Jose State, Portland State)
The state's #1 ranked receiver didn't disappoint as he ran crisp routes all day and showed why he is on a host of Pac 12 radars right now.
Morgan has one of the more entertaining highlight video's from last season as he ran circles around DB's, scoring 15 Tds in the process. On Sunday he broke off most of Defensive backs that he went against, and continued to impress with his testing. His (3.97) shuttle was the 2nd fastest recorded time in Barton Camp/Combine history. Boise St bound Tanner Shipley set the record last season up in Seattle with a (3.92).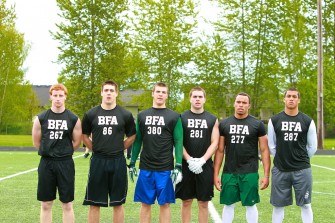 Defensive
Sam Bodine 6-2 225 Jr. LB Canby
This years Johnny Ragin. We sound like a broken record, but this will be one of the most recruited kids in the NW when all is said and done.
His 2012 film doesn't come close to doing him justice, but what we have ALL seen over the off season more then makes up for it. He is one of the most athletic backers we have ever worked with, running a (4.53) 40 yard dash which was just behind Alfieri and WR Morgan (4.52).
He earned 1st team all league honors last season, and will be a leading candidate for defensive POY honors in the Three Rivers Conference this year.
Line
Josh Brown 6-6 245 Jr. Sunset – (OFFERS: Northern Colorado)
Sunset's Brown was a 1st team all league DE and honorable mention all league TE in the state's toughest conference.
Brown showed why he could be one of the more recruited kids to come out of the NW on Sunday, doing a phenomenal job from his D line spot. Josh attended all of our elite events during the winter and improved a great deal from his TE spot.
We hadn't seen him perform at D end since the season ended, so his lights out performance yesterday only exploited his legitimacy on both sides of the ball.
Positional
QB
Reilly Hennessey 6-3 195 Jr. Camas, WA.
Jett Even 6-4 185 Jr. Tigard
AJ Woodin 5-11 185 Jr. Southridge
Derrick Becker 6-0 180 Jr. Capital, WA
RB
Daniel Sherrell 5-9 170 Jr. Clackamas
Brett Hildebrand 5-11 190 Jr. McNary
WR/TE
Jaray Kindell 6-0 185 Jr. Lincoln
Tanner Boone 6-2 180 Jr. Thurston
Isaiah Hall 6-4 220 Jr. Horizon Christian (TE)
OL
Noah Bagley 6-2 285 West Linn
Joe Kuenzi Silverton 6-2 250 Silverton
Mike Miller 6-4 280 Jesuit
Tyler Cox 6-3 245 Southridge
DL
Wade Perry 6-4 255 Jr. Thurston
Liam Talty 6-4 225 Jr. Sheldon
Austin Holmes- 6-4 245 Jr. Eagle Point
LB
Ryan Nall 6-3 230 Jr. Central Catholic (Offers: Port St)
AJ Hotchkins 6-0 230 Jr. Tigard (Offers: Idaho, Port St)
Nick Underwood 6-2 215 Jr. Lake Oswego
DB
James Schell-Buchanan 5-11 190 Jr. Roosevelt
Manu Rasmussen 6-0 175 Jr. Tigard
Slot
Daren Rodrigues 5-10 165 Jr. Tigard
UNDERCLASSMEN MVP's
QB
Cade Smith 6-1 185 So. West Salem (Offers: Wyoming)
Cole Chandler 6-2 185 So. Silverton
RB
Brandon Culp 6-1 185 So. Putnam
WR
Keegen Hlad 6-4 175 So. West Salem
Slot
Stephen Marcille 5-9 165 So. Beaverton
Jacob Spadafora 5-10 165 So. Tigard
Line
Ian Meyers 6-3 210 So. Westview
LB
Dreyvhon Stewart 5-10 205 So. Wilsonville
DB/ATH
Joey Roos 6-2 175 So. West Albany
JT Valenzuela 5-9 170 So. West Albany
9th
Ronnie Rust RB/LB Central catholic
Caden Carter RB/S Sunset
Michael Alfieri ATH Jesuit
Zach Smith Slot/DB Capital , WA