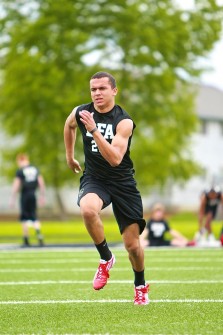 Its was a good Wednesday for Oregon top ranked Jr. WR Jordan Morgan (6-2 200) of Southridge, who hauled in his first Pac 12 offer from the Arizona Wildcats.
The elite wide out put his #1 ranking on display during the 2012 season, going off against anybody in his way. His 15 Tds complimented his ridiculous highlight video that many schools will be offering off of moving forward.
Jordan MVP'd our camp/combine last weekend on the offensive side of the ball, and runs some of the nicest routes of any receiver in the country. Referencing the offer he says, " Honestly its just the best feeling in the world and it just motivates me to work that much harder".
He continued, "Head Coach Rodriguez asked me to call him, and when I did he said that they thought I brought a lot to the table and they would like to offer".
Morgan landed his third offer in the last month with San Jose State and Portland State coming in as well. The flood gates have now officially opened for Jordan's services, as he could very well see a majority of the Pac 12 vying for his commitment.
On a personal note I am very happy for the kid from Beaverton. We have watched him grow up from a very young age and dominate the competition, and now he will have an opportunity to do that on a national stage.
His upside is through the roof as one of the state's top track athletes and we couldn't be happier for the kid out of Murrayhill.