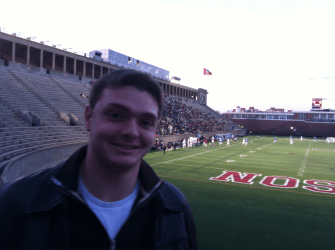 Mercer Island (Wa.) DL Brad Kimball is a leader both on and off the field. About four weeks ago, while on spring break, the talented two-way lineman took a tour of some Ivy League schools and came away with offers from both Harvard and Yale. Soon after he headed out of the country, to Guatemala, to take part in a leadership program and he just returned home and spoke of his experiences there as well as what lies ahead on the football recruiting front.
"It was a great experience for me. I went down there with Global Visionaries and it was my first time going to a Third World country and we did a lot of work on a school down there and it's something I will never forget," Kimball told Northwest Elite Index.
Before his trip to Guatemala, Kimball and his father took a tour of Ivy League schools and he came away with offers from two of the schools they visited.
"While I was up there I got offered by Harvard and Yale," Kimball noted. "It was great to get those first two offers. I also visited Dartmouth and Brown and they are recruiting me a lot right now."
"I'm going to head back out there to their camps (Dartmouth and Brown) and I'm also talking a little with Stanford now too. I'm going to go to the Northwest Elite camp at Mercer Island (Friday, June 7th) too."
While Kimball's great frame (6'3″, 245) and underrated athleticism are what has garnered him the attention of schools, he was quick to say that it wasn't just that, giving credit to the staff that has helped develop him.
"I give all the credit to my coaches for helping me learn what I needed to know to be successful," Kimball said. "Coach (Brett) Ogata runs a great program here and then my two position coaches — coach Chip Daily (offensive line) and coach Brad Burmester (defensive line) — have shown me so much. I couldn't have gotten to where I am without their help."
He also wanted younger players to know one very important thing. "They should always be students first," Kimball said. "Football is great and I love to play it, but if you want to play at the highest level, you have to concentrate on school first and then on football because you can be a great player and not be able to play if you don't have the grades."
Kimball currently boasts a 405-pound squat while throwing up 275 pounds on the bench and 275 pounds on the power clean.