**Full Combine Testing Results are at the bottom**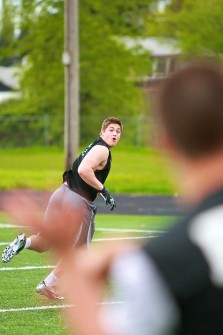 QB's
Its always great for NW QB's to get to train with one of the country's best, and Sunday was no different. Quarterbacks came from all over to work with Taylor Barton and hone their skills.
We saw starting QB's and future stars of tomorrow from all over the region, led by one of the top quarterback's in the Northwest in Reilly Hennessey of Camas. He comes back our Co #2 QB in the state of Washington, and is a kid that projects at the D1 level. A lot will depend on the workouts he has this off season, but he is on the right track. He's a phenomenal overall athlete.
Both AJ Woodin (Southridge) and Jett Even (Tigard) will lead their respective schools into the 2013 season ranked as 2 of the top 4 teams state wide. Woodin has been lights out this early off season, and Even looked as good as we have ever seen him on Sunday. His testing was outstanding as well.
Underclassmen Cade Smith (So. West Salem) and Cole Chandler (So. Silverton) are 2 of our top 4 ranked QB's in Oregon for the 2015 class and had legit performances this weekend. Most know that Cade is the younger brother of former Oregon Gatorade Player of the Year Brett Smith, now the starter at Wyoming and a former freshman All American. The younger Smith already has an offer from the Cowboys.
Chandler is flying up the charts and looked very impressive Sunday. Cole is a born leader and a kid that led Silverton to an undefeated season, before being tripped up by eventual state champion Sherwood in the semi's.
Derrick Becker of Capital HS in WA MVP'd the event for the second straight week, and is one of the top ranked junior signal callers in the state of Washington.
There were a bunch of other kids that had very good days, including starting QB's from all over the Pacific Northwest. Derek Sunkle (Wilsonville), Cody Lahoda (West Albany), Josh Kibbey (Dallas), Hunter Huddleston (Woodland, WA.) and Carlin Ables (Salem Academy) will all be in a position to lead the their team come next fall.
Sunkle is an outstanding overall athlete and may end up playing the RB position for the Wildcats. Head Coach Adam Guenther and new coach Greg Barton provide a championship foundation for the Wilsonville.
Lahoda is one of two very talented brothers who will help lead the Bulldogs this season. It will be the Jake Lacoste run show, but Lahoda makes sure everything runs smoothly and is more then capable at the position. Josh Kibbey was one of the most impressive QB's on the day, and will help the Dragons of Dallas to what could be their best season in years.
Huddleston and Ables are both camp gurus, and will help lead their small schools to potentially the best season they have had in some time.
Austin Brisbee (Westview), Grant Watts (Centennial), Logan Tovey (Thurston), Joseph Blansett (Elmira), and Zak Schueller (Kelso) are other kis who are projected starters for there teams. Watts has never looked better and looked good at WR, while Tovey will play QB but is athletic enough to contribute at a host of different positions.
Blansett will lead one of the state's better 4A teams, and Schueller looked good over the winter and will need to be a rock for his Kelso group. Westview is a great area, but has been hurting football wise and Brisbee will help attempt to get that turned around.
JT Greenough (Tigard) is a very talented sophomore QB for Tigard with outstanding film, and could be one of the better Quarterback's in the state before all is said and done. Riley Rexine (Oregon City), Michael Boles (Sprague), and Josh Murray (Thurston) are three young QB's that are considered the future.
Rexine led a freshman O.C. group that hasn't lost in a couple years, with the Pioneers doing big things under new Head coach Strasser. Boles will be competing for the starting job as Sprague loses a super talented senior group, and Murray is a good looking freshman athlete with size that will be able to sling it in Coach Starck's system.
Kyle Schwarm and Austin Rayas are both very capable out of (Stayton), as both athletes will try to replicate what Reece Hack did a few years back.
Kaden Clark (Heppner) made the trip and showed off his skills, while Gabe Evenson (Columbia River) will be the leader of a young but talented Chieftains group.
Douglas Clem (W.Salem) has legit size and plays for one of our favorite coaches ever in Shawn Stanley, and Landon Matta (S.Albany) will be in a system that likes to air it out.
Last but not least is Matt Hayes (Blanchet) who will take the snaps at the small Oregon school , and freshman Cole Hammond (Lake Oswego) who plays in one of the best programs on the west coast.
There were skilled quarterbacks all over the field, and we are excited about all of the talent within the region at the position.
RB's
The RB group was led by a couple of the state's top returners in Daniel Sherrell (Jr. Clackamas), who went for over 2100 yards and 27 Tds last season. Sherrell AKA "Smiley" is one of the most likeable kids you will ever meet off the field, but just an assassin on it.
Brett Hildebrand (Jr. McNary) is a kid we have gotten to know well and think highly of. He went for 1400 yards a year ago with double digit Tds, and continues to impress.
Brandon Culp (So. Putnam) is a kid you will hear a lot about over the next couple seasons, under one of the state's top coaches in Brad Lewman.
Freshman young guns Ronnie Rust (Central Catholic), Caden Carter (Sunset), Michael Alfieri (Jesuit), Andrew Axelson (Sprague) and Sage Roundtree (Hillsboro-8th) will all be some of the state's top players in the coming years.
Rust went for 32 Tds this past season and will come back one of the state's top ranked sophomores on both sides of the ball. Carter will be another one of the state's top athletes, and a future Metro League Player of the Year Candidate at RB/S.
The younger Alfieri is lightning quick, and will end up being one of the state's better skill players. Axelson and Roundtree are future leaders at their schools and look to be two of the better athletes in the 2016-17 classes.
Anthony Torino (Salem Academy) is quickly becoming one of the better known RB's state wide, and is a kid that will be in the conversation for 3a conference and state player of the year honors.
Gabe Kuedell and Braden Palanuk (Salem Academy) are two other younger athletes that will get in the mix for Coach Stomps and his Crusaders in the coming years. Gavin McFarland (Regis) and Lucian Blansett (Elmira) will both be two of the go to guys at the 3a and 4a level.
Keonte McMurrin and Hamilton Hunt of (West Salem) will be an elite system under Head coach Stanley and should do well, while Andrew Reyna (Central) is still young but should shine later down the road for the 4a power.
Anthony Nunn (Sprague) will get a chance to show what he can do in the Oly's system with the departure of the elite senior group we referenced earlier.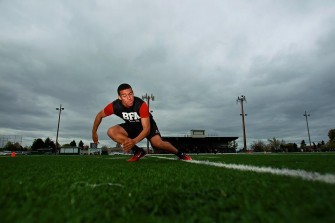 WR/TE's
The overall talent was pretty sick as the state's #1 ranked Junior and Sophomore were in attendance, putting on a show at Oregon's biggest camp/combine. Jordan Morgan (Jr. Southridge) MVP'd the day as we elaborated on all of his abilities yesterday.
Keegen Hlad (So. West Salem) went off as well, looking like the state's top ranked sophomore. He will be one of the top receivers in Oregon this season, as Cade Smith will have a field day with his skills. Jaray Kindell (Jr. Lincoln) also MVP'd the day and will be a candidate for PIL Player of the Year next season. Fundamentally Kindell is outstanding and is using his track skills to hone his football abilities.
Three other top ranked juniors who did very well were Quentin Bates (Jr. Reynolds), Kevin Martz (Jr. South Salem), and Daren Rodrigues (Jr. Tigard). Bates has been grinding all winter at our elite events and has just gotten better and better. He is ranked as one of the state's top 10 receivers, as is South Salem's Kevin Martz who did very well on the day. Rodrigues is one of my new favorite players, MVP ing the last two weeks and showing off legit skills.
Two younger athletes that got in the mix were sophomore slot receivers Stephen Marcille (Beaverton) and Jacob Spadafora (Tigard), who much like Rodrigues moved very well in the open field and after the catch.
The state's top 4 ranked TE's were in attendance on Sunday, with most of them participating in the D line portion. Nationally ranked recruit Henry Mondeaux (Jr. Jesuit) and Josh Brown (Jr. Sunset) both MVP'd the event, with other top ranked DE/TE Brody Haehlen of Clackamas going down with an injury.
Having another breakout performance was Isaiah Hall of Horizon Christian who has a stock that just continues to rise. Hall is still somewhat raw and has an upside that won't quit with an outstanding frame. Another kid that tested very well, and had a monster day was Kyle Hendrix (Woodland). He is undersized for a TE but can play a host of different positions with his athleticism.
Garrett Greenway and Henry Ramirez (Wilsonville) will return as juniors for the Wildcats, while sophomore Ian Meyers (Westview) had a very good day on the D line but projects at TE.
Parker Belan (Horizon Christian) and Ryan Cleveland (Tigard) will both return and play pivotal roles for their school. Belan is the other top athlete at Horizon along with Hall, and may be called upon to play quarterback next season. Cleveland looks to a be a WR with the run happy Tigers.
West Linn freaky 8th grader Jonny Neville (West Linn), made believers out of kids three years older. Freshman David Benintendi (Oregon City) was impressive and is part of that younger O.C. group that hasn't lost in a couple seasons.
Nick Burgett (Falls City), Nathan Kuratli (Union, WA), and Nathan Schmidt (Salem Academy) were the three other individuals that rounded out the talented receivers on the day. It was an outstanding group that saw Oregon's top 4 Jr TE's, and 6 of the state's top 10 receivers perform.
Testing Results:
| | | | | | | | | | | |
| --- | --- | --- | --- | --- | --- | --- | --- | --- | --- | --- |
| Last Name | First Name | School | Current Grade | 40 yd dash | Shuttle | Long Jump | Height | Weight | Hand size | Wingspan |
| | | | | | | | | | | |
| Ables | Carlin | Salem Academy | 2014 | 5.4 | 4.55 | 6'9″ | 73″ | 163 | 9.1″ | 74″ |
| Alfieri | Joey | Jesuit | 2014 | 4.52 | 4.07 | 9'5″ | 74″ | 222 | 9.7″ | 75.8″ |
| Alfieri | Michael | Jesuit | 2016 | 4.96 | 4.33 | 8'2″ | 66″ | 122 | 8.5″ | 67″ |
| Arrington | Wyatt | Silverton | 2014 | 4.97 | 4.53 | 8'6″ | 74.5″ | 185 | 9.1″ | 74.5″ |
| Axelson | Andrew | Sprague | 2016 | 5.44 | 4.8 | 7′ | 68″ | 216 | 9″ | 73″ |
| Bagley | Noah | West Linn | 2014 | 5.4 | 4.91 | 7'2″ | 73″ | 286 | 8.5″ | 73″ |
| Banks | Justin | Marist | 2014 | 5.28 | 4.84 | 7'5″ | 70.8″ | 247 | 8.6″ | 72″ |
| Bates | Quentin | Reynolds | 2014 | 4.66 | 4.4 | 8'7″ | 72.4″ | 186 | 9.1″ | 77″ |
| Becker | Derrick | Capitol | 2014 | 4.82 | 4.34 | 8'11" | 72″ | 180 | 8.8″ | 72″ |
| Belan | Parker | Horizon Christian | 2014 | 4.8 | 4.27 | 7'8″ | 73″ | 183 | 8.3″ | 73.3″ |
| Benintendi | David | Oregon City | 2016 | 5.16 | 4.59 | 7'8″ | 68.5″ | 148 | 8.7″ | 70.5″ |
| Blansett | Lucian | Connections Academy | 2014 | 5.17 | 4.78 | 7'8″ | 69.3″ | 204 | 8.4″ | 68″ |
| Blansett | Joseph | Elmira | 2016 | 5.4 | 4.95 | 7'6″ | 67″ | 156 | 9.1″ | 66″ |
| Bodine | Samuel | Canby | 2014 | 4.53 | 4.19 | 9'8″ | 73.7″ | 209 | 9.5″ | 77″ |
| Boles | Michael | Sprague | 2017 | 5.6 | 4.78 | 7'6″ | 67.3″ | 112 | 8″ | 67″ |
| Boone | Tanner | Thurston | 2014 | 5 | 4.46 | 8'3″ | 71.5″ | 169 | 8.5″ | 70″ |
| Brisbee | Austin | Westview | 2015 | 5.31 | 4.78 | 7'3″ | 73″ | 150 | 8.7″ | 76″ |
| Brown | Josh | Sunset | 2014 | 5.06 | 4.72 | 8'2″ | 77″ | 229 | 10.5″ | 80.4″ |
| Burgett | Nick | Falls City | 2016 | 5.1 | 4.45 | 7'1″ | 69.5″ | 141 | 8.3″ | 71″ |
| Bystry | Jacob | Columbia River | 2015 | 5.18 | 4.71 | 7'8″ | 70″ | 143 | 9.3″ | 69″ |
| Carter | Caden | Sunset | 2016 | 4.83 | 4.28 | 8'5″ | 70.7″ | 172 | 9.1″ | 71″ |
| Chandler | Cole | Silverton | 2015 | 5.03 | 4.38 | 8'4″ | 73″ | 187 | 8.5″ | 74″ |
| Clark | Kaden | Heppner | 2016 | 4.95 | 4.75 | 7'9″ | 68″ | 136 | 8.5″ | 68.4″ |
| Clem | Douglas | West Salem | 2015 | 5.25 | 4.97 | 7'5″ | 72″ | 202 | 9.5″ | 75″ |
| Cleveland | Ryan | Tigard | 2014 | 5.07 | 4.62 | 8'4″ | 73.5″ | 163 | 8.3″ | 71″ |
| Coates | Tyler | South Salem | 2017 | 6.06 | 5.25 | 5'10" | 67.5″ | 193 | 8.5″ | 69″ |
| Cox | Tyler | Southridge | 2014 | 5.59 | 4.62 | 7'5″ | 74.5″ | 250 | 10″ | 75″ |
| Culp | Brandon | Rex Putnam | 2015 | 4.69 | 4.5 | 8'3″ | 71.4″ | 177 | 9.5″ | 72.5″ |
| Dole | Peyton | Eagle Point | 2014 | 4.71 | 4.34 | 9'6″ | 74″ | 201 | 8.7″ | 77″ |
| Dooling | Josh | Lincoln | 2015 | 4.95 | 4.44 | 7'3″ | 66.8″ | 159 | 8.5″ | 67.5″ |
| Even | Jett | Tigard | 2014 | 4.69 | 4.06 | 8'11" | 75″ | 189 | 8.3″ | 75″ |
| Evenson | Gabe | Columbia River | 2015 | 4.94 | 4.53 | 8′ | 69.3″ | 167 | 9″ | 68″ |
| Farnes | Zachary | Clackamas | 2014 | 4.9 | 4.54 | 8'7″ | 72″ | 190 | 8.5″ | 69.8″ |
| Ferguson | Luke | West Salem | 2015 | 4.96 | 4.59 | 7'10" | 70″ | 153 | 9.2″ | 71.5″ |
| Fobert | Craig | Canby | 2014 | 5.47 | 4.97 | 7'3″ | 73.5″ | 254 | 8.1″ | 77.5″ |
| Foster Kamakaala | Harrison | WestView | 2014 | 4.82 | 4.22 | 8'10" | 70″ | 214 | 9″ | 71.5″ |
| Greenough | Joseph | Tigard | 2015 | 4.88 | 4.72 | 7'4″ | 73.4″ | 169 | 8.4″ | 74.5″ |
| Greenway | Garrett | Wilsonville | 2015 | 5.03 | 4.68 | 7'6″ | 71″ | 181 | 9.4″ | 71″ |
| Gubbels | Cody | Silverton | 2015 | 5.56 | 5.07 | 6'3″ | 73″ | 215 | 8.5″ | 75″ |
| Haas | Jordon | Springfield | 2014 | 5.56 | 5.16 | 7'7″ | 77″ | 272 | 9.5″ | 80″ |
| Haehlen | Brody | Clackamas | 2014 | 5.06 | 4.65 | 8'6″ | 75″ | 250 | 9.1″ | 75.5″ |
| Hall | Isaiah | Horizon Christian | 2014 | 5.06 | 4.79 | 7.8″ | 74″ | 224 | 8.5″ | 77.5″ |
| Hammond | Cole | Lake Oswego | 2016 | 5.19 | 4.44 | 8'3″ | 72″ | 135 | 9.4″ | 72.5″ |
| Handran | Jacob | Blanchet Catholic | 2014 | 4.97 | 4.59 | 8′ | 74″ | 201 | 8.1″ | 76″ |
| Hayes | Matt | Blanchet Catholic | 2016 | 5.25 | 4.81 | 7'9″ | 69.5″ | 144 | 8.4″ | 70.5″ |
| Hendrix | Kyle | Woodland HS | 2014 | 4.79 | 4.41 | 8'2″ | 71″ | 186 | 8.3″ | 72.5″ |
| Hennessey | Reilly | Camas | 2014 | 4.83 | 4.19 | 8'2″ | 75″ | 190 | 8.5″ | 73″ |
| Hildebrand | Brett | Mcnary | 2014 | 4.81 | 4.53 | 8'3″ | 69″ | 189 | 8.7″ | 69.5″ |
| Hinkle | Donovan | West Salem | 2015 | 4.97 | 4.75 | 7'10" | 71.6″ | 202 | 9.3″ | 72.5″ |
| Hlad | Keegen | West Salem | 2015 | 4.62 | 4.28 | 8'3″ | 74.8″ | 178 | 9.5″ | 74.3″ |
| Holmes | Austin | Eagle Point | 2014 | 5.12 | 4.69 | 7″ | 74.2″ | 222 | 8.7″ | 75.5″ |
| Hotchkins | AJ | Tigard | 2014 | 4.76 | 4.26 | 9'4″ | 70.7″ | 223 | 9″ | 79″ |
| Huddleston | Hunter | Woodland HS | 2014 | 5.01 | 4.53 | 8'4″ | 72″ | 211 | 9.2″ | 73″ |
| Humphries | Kaighn | Thurston | 2014 | 5.35 | 4.89 | 7'8″ | 74″ | 250 | 9.5″ | 77.5″ |
| Hunt | Hamilton | West Salem | 2014 | 5.31 | 4.56 | 8'3″ | 71″ | 174 | 7.7″ | 70.5″ |
| Johnson | Travis | Southridge | 2014 | 5.91 | 5.25 | 6'8″ | 71″ | 218 | 9.5″ | 70.4″ |
| Kennedy | Jordan | | 2015 | 4.9 | 4.68 | 7'5″ | 75″ | 198 | 9.1″ | 75″ |
| Keudell | Gabe | Salem Academy | 2015 | 5.15 | 4.69 | 7'8″ | 69.5″ | 191 | 7.3″ | 69″ |
| Kibbey | Josh | Dallas | 2014 | 5.25 | 5.05 | 7′ | 73″ | 190 | 10.3″ | 75.5″ |
| Kindell | Jaray | Lincoln | 2014 | 4.68 | 4.09 | 8'9″ | 70.5″ | 177 | 9.1″ | 70.5″ |
| Kline | Andrew | Salem Academy | 2016 | 6.25 | 5.78 | 5'4″ | 64″ | 210 | 8.7″ | 70.5″ |
| Kragero | Aidan | Horizon Christian | 2015 | 5.65 | 4.97 | 6'10" | 70.5″ | 243 | 9.1″ | 71″ |
| Kuenzi | Joseph | Silverton | 2014 | 5.22 | 4.56 | 7'9″ | 73″ | 217 | 8.1″ | 74″ |
| Kuratli | Nathan | Union | 2016 | 5.25 | 4.6 | 7'10" | 70.5″ | 135 | 8.4″ | 69.5″ |
| Lahoda | Kevin | West Albany | 2016 | 4.71 | 4.53 | 8′ | 71″ | 164 | 8.1″ | 71.5″ |
| Lahoda | Cody | West Albany | 2014 | 4.9 | 4.44 | 8'10" | 73″ | 180 | 8.5″ | 75″ |
| Larsen | Justin | Salem Academy | 2015 | 5.28 | 4.4 | 6'11" | 65″ | 129 | 8″ | 63″ |
| Loveless | Chris | WestView | 2014 | 5.03 | 4.13 | 7'11" | 68.5″ | 179.5 | 8.1″ | 68″ |
| Lukens | Walker | Southridge | 2014 | 5.56 | 5 | 7'5″ | 73″ | 236 | 9″ | 73.5″ |
| Marcille | Steven | Beaverton | 2015 | 4.67 | 4.21 | 9'2″ | 69.5″ | 150.5 | 8″ | 69.5″ |
| Markham | Joshua | Salem Academy | 2014 | 5.9 | 5.18 | 5'3″ | 72″ | 251 | 8.3″ | 72.5″ |
| Martz | Kevin | South Salem | 2014 | 4.75 | 4.47 | 8'1″ | 72.5″ | 183 | 8.6″ | 72″ |
| Manu | Lisala | West Salem | 2015 | 5.31 | 4.78 | 7'8″ | 71″ | 229 | 9.2″ | 76.2″ |
| Matta | Landon | South Albany | 2016 | 5.11 | 4.34 | 7'3″ | 66″ | 139 | 8.1″ | 66″ |
| McFarland | Gavin | Regis | 2015 | 4.89 | 4.65 | 7'2″ | 67″ | 155 | 8.5″ | 67.5″ |
| McGovern | Marcus | Sheldon | 2014 | 4.65 | 4.44 | 9'9″ | 73″ | 198 | 9″ | 72.5″ |
| McMurrin | Keonte | West Salem | 2017 | 5.28 | 4.75 | 7′ | 66″ | 135 | 8.3″ | 69″ |
| Miller | Michael | Jesuit | 2014 | 5.42 | 4.62 | 6'9″ | 76.2″ | 279 | 8.5″ | 75.5″ |
| Mitchell | Brandon | Salem Academy | 2014 | 5.1 | 4.99 | 6'4″ | 72″ | 230 | 9″ | 73″ |
| Mondeaux | Henry | Jesuit | 2014 | 4.85 | 4.21 | 9'2″ | 76.5″ | 255 | 8.9″ | 76″ |
| Morgan | Jordan | Southridge | 2014 | 4.52 | 3.99 | 9'9″ | 73.3″ | 196.5 | 9.3″ | 73.5″ |
| Murray | Josh | Thurston | 2015 | 5.43 | 4.6 | 7'5″ | 72.7″ | 214 | 8.8″ | 74.5″ |
| Myers | Ian | Westview | 2015 | 5.06 | 4.53 | 7'3″ | 73″ | 203 | 9″ | 73.4″ |
| Nall | Ryan | Central Catholic | 2014 | 4.55 | 4.18 | 9'10" | 74″ | 225 | 9.5″ | 75.5″ |
| Neville | Jonny | West Linn | 2017 | 5.29 | 4.55 | 8′ | 74.5″ | 169 | 9.5″ | 74″ |
| Nunn | Anthony | Sprague | 2016 | 4.85 | 4.5 | 7'6″ | 69″ | 170 | 8.1″ | 69″ |
| O'Brien | Ian | Union | 2016 | 4.9 | 4.87 | 7'9″ | 66.5″ | 163 | 8″ | 66″ |
| Palanuk | Braden | Salem Academy | 2016 | 4.84 | 4.43 | 7'7″ | 67.5″ | 177 | 8.4″ | 68″ |
| Parker | Jacob | Salem Academy | 2015 | 5.7 | 4.95 | 6'8″ | 70″ | 198 | 9.1″ | 72″ |
| Paxton | Matthew | Salem Academy | 2017 | 5.72 | 4.8 | 7'1″ | 69.5″ | 156 | 9.2″ | 70.7″ |
| Perry | Wade | Thurston | 2014 | 5.2 | 4.65 | 8'11" | 76″ | 231 | 9.7″ | 78.5″ |
| Raab | Zachary | Salem Academy | 2016 | 5.25 | 4.71 | 6'9″ | 66″ | 121 | 8.3″ | 66.5″ |
| Ramillosa | Zachary | Salem Academy | 2017 | 5.87 | 4.91 | 6'6″ | 66.8″ | 194 | 8″ | 66.8″ |
| Ramirez | Henry | Wilsonville | 2015 | 5.12 | 4.75 | 7'8″ | 71″ | 184 | 8.5″ | 73.5″ |
| Ramsay | Garret | Salem Academy | 2015 | 6.94 | 6.28 | 3'11" | 70.5″ | 247.5 | 8″ | 71.7″ |
| Rasmussen | Manu | Tigard | 2014 | 4.57 | 4 | 9'7″ | 70.5″ | 172 | 8.3″ | 70.8″ |
| Rayas | Austin | Stayton | 2015 | 5.21 | 4.53 | 7'6″ | 70.5″ | 142 | 8″ | 71.5″ |
| Rexine | Riley | Oregon City | 2016 | 5.1 | 4.5 | 8'2″ | 70″ | 154 | 9″ | 71″ |
| Reyna | Andrew | Central | | 5.56 | 4.94 | 6'8″ | 64″ | 115 | 8.5″ | 64″ |
| Rodrigues | Daren | Tigard | 2014 | 4.84 | 4.12 | 8'10" | 68.5″ | 155 | 9″ | 71″ |
| Roos | Joey | West Albany | 2015 | 4.87 | 4.31 | 8'6″ | 73.5″ | 168 | 8.5″ | 75″ |
| Roundtree | Sage | Hillsboro | 2017 | 5.1 | 4.36 | 7'4″ | 65.5″ | 141 | 8.3″ | 64″ |
| Rust | Ronnie | Central Catholic | 2016 | 4.59 | 4.15 | 9'7″ | 71.5″ | 176.5 | 8.5″ | 70.5″ |
| Rutherford | Joseph | Southridge | 2016 | 6 | 5.6 | 5'10" | 72″ | 276 | 8.7″ | 74″ |
| Schell-Buchanan | James | Roosevelt | 2014 | 4.67 | 3.96 | 8'10" | 70″ | 178 | 8.5″ | 72″ |
| Schmidt | Nathan | Salem Academy | 2014 | 5.13 | 4.4 | 8'5″ | 74.4″ | 179 | 8.4″ | 75″ |
| Schoonmaker | Chandler | Tualatin | 2014 | 4.9 | | | 68.7″ | 195 | 8.4″ | 70.4″ |
| Schueller | Zak | Kelso | 2015 | 5.13 | 4.59 | 7'2″ | 71.5″ | 169 | 9.1″ | 70.1″ |
| Schwarm | Kyle | Stayton | 2016 | 5.38 | 5.03 | 6'9″ | 73″ | 179 | 10″ | 77″ |
| Sherrell | Dan | Clackamas | 2014 | 4.61 | 4.25 | 9'1″ | 68″ | 165.5 | 8.3″ | 68.3″ |
| Smith | Cade | West Salem | 2015 | 4.64 | 4.27 | 8'7″ | 72″ | 186 | 9″ | 71.5″ |
| Smith | Zach | Capitol | 2016 | 5.09 | 4.56 | 8'2″ | 68.5″ | 155 | 8.5″ | 69″ |
| Spadafora | Jacob | Tigard | 2015 | 5.06 | 4.47 | 7'6″ | 69″ | 164 | 9.1″ | 70″ |
| Stadeli | Levi | Silverton | 2014 | 5.06 | 4.85 | 8′ | 73.5″ | 192 | 9″ | 78″ |
| Stewart | Dreyvhon | Wilsonville | | 5.15 | 4.85 | 7'7″ | 68″ | 209 | 9″ | 67.5″ |
| Sunkle | Derek | Wilsonville | 2014 | 4.78 | 4.28 | 9'2″ | 73.3″ | 171 | 8.7″ | 72.7″ |
| Talty | Liam | Sheldon | 2014 | 5.19 | 4.48 | 8'6″ | 75″ | 230 | 9.1″ | 72″ |
| Tornio | Anthony | Salem Academy | 2014 | 4.89 | 4.59 | 7'9″ | 68″ | 169 | 8.3″ | 70″ |
| Tovey | Logan | Thurston | 2014 | 4.84 | 4.47 | 8'1″ | 67″ | 151 | 7.7″ | 68″ |
| Underwood | Nick | Lake Oswego | 2014 | 4.5 | 4.19 | 9'6″ | 71.5″ | 211 | 9.5″ | 70″ |
| Valenzuela | John-tyler | West Albany | 2015 | 5 | 4.62 | 8'9″ | 70″ | 168 | 9.1″ | 69.5″ |
| Van Voorhis | Brendan | McNary | 2017 | 4.77 | 4.32 | 7'5″ | 68″ | 136 | 8.4″ | 69″ |
| Washington Jr | Aaron | Central Catholic | 2014 | 4.59 | 4.5 | | 66″ | 169 | 7.8″ | 70″ |
| Watts | Grant | Centennial | 2014 | 4.99 | 4.27 | 7'10" | 67.5″ | 146 | 7.7″ | 64.4″ |
| Werst | Andrew | Salem Academy | 2015 | 5.38 | 4.88 | 7'10" | 74.5″ | 231 | 8.3″ | 75.5″ |
| Wilson | Cole | Wilsonville | 2015 | 4.88 | 4.53 | 8′ | 69.5″ | 204 | 9.5″ | 70.8″ |
| Woodin | AJ | Southridge | 2014 | 4.83 | 4.4 | 7'8″ | 70.3″ | 181.5 | 8.5″ | 70.5″ |
| Young | Will | Sandy | graduated | 5.19 | 4.87 | 7'6″ | 75″ | 248 | 7.7″ | 79″ |