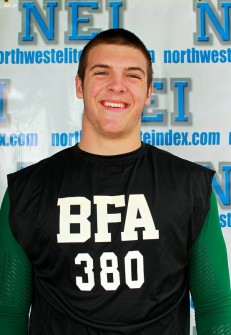 To say that Joey Alfieri (6-3 225 Jr. LB) is quickly becoming one of the nation's top recruits would be accurate. The Jesuit standout landed Wisconsin today in what is equating to a free for all for his services.
The Crusader standout was offered by Stanford last week and just today heard from the Badgers for the first time. He says, "I had not talked to Wisconsin at all before today so it was a big surprise to hear they were offering me". He continued, "Coach said they knew they wanted to offer after watching the first four plays of my tape which is cool".
At this pace Alfieri could go down as the most recruited backer in state history before all is said and done. Just this weekend he was named the co overall MVP, with nationally ranked recruit and teammate Henry Mondeaux, at our state's largest Barton Camp/Combine.
He will be the favorite for Oregon Defensive Player of the Year honors in 2013 and should be nominated to multiple All American games. Jesuit will come in the state's #1 ranked team to start the season, and they will go as far as Joey and Henry can take them.
In closing he says, "Wisconsin's a school that has gone to the Rose Bowl and been Big Ten Champs consistently, making it a university that definitely grabs my attention". We are big backers of Alfieri, and once again congratulate him on another offer.