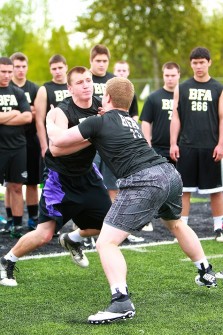 D Line
Most of the state's top lineman were in attendance Sunday with the big guys going at it. All everything OLB/DE Henry Mondeaux was the camp MVP and holds 4 offers, one from Oregon.
Josh Brown (6-6 245 Jr. TE) was the D line MVP for the day going off as we reported on earlier. Brown recently just received his 1st offer from N.Colorado and will have many more. Liam Talty of Sheldon was one of the main reasons the Irish won the state title last season, and will be one of the leading candidates for SWC Defensive Player of the Year in 2013.
Austin Holmes (Eagle Point), Brody Haehlen (Clackamas), Isaiah Hall (Horizon Christian) , and Wade Henry (Thurston) were four of the other top juniors that are all ranked on our boards
Holmes is the brother of potential D1aa All American Tyrone Holmes now at Montana. He has an upside that won't quit with his overall length and athleticism. Haehlen was injured on the day, but returns as one of the state's top D ends, after a 2nd team all league season on both sides of the ball.
Hall had one of his best days yet showing off legit strength and tossing a couple O lineman. He will need to be an absolute monster next season for a Horizon team that loses a lot. Henry was an all league kid last season, but somewhat unknown. He had an outstanding day and will be an athlete that's added to our rankings board.
Jordan Kennedy (Cedar Park Christian WA), JJ Banks (Marist), and Travis Johnson (Southridge) were three other junior D lineman that showed up and did very well. Kennedy returned from Australia where he will be playing Rugby over the football season, but return the following year. It was great to see him make the trip.
Banks will return on the interior as one of Marist's top kids who are always in the title hunt, while Johnson is looking to be a difference maker his senior year.
Lisala Manu (West Salem) and Ian Meyers (Westview) are both sophomore D lineman that will be two of the better players in their conferences. Meyers projects as a TE, but did well defensively and Manu was one of only a couple sophomores to play Varsity ball last season.
All of the Salem Academy kids did well with Brandon Mitchell, Garrett Ramsay, Jacob Parker, and Andrew Werst getting in the mix. Mitchell was one of the more impressive kids on the day as he should be one of the better dual threat lineman at the 3a level.
Joseph Rutherford (Southridge) could be one of the better freshman lineman in the state as he is a very talented wrestler. Kaign Humphries (Thurston) and Tyler Coates (South Salem) rounded out the talented lineman at the camp, as both of these athletes should see significant time again this season
O Line
The performance of the day on the offensive line came from Noah Bagley (Jr. West Linn). The kid dropped 45 pounds from last year and looked the part all day. We were impressed with him over the season, but Sunday's performance was real.
Mike Miller (Jr. Jesuit) and Tyler Cox (Jr. Southridge) will be two of the better O lineman in the Metro League, leading two of the state's better teams. Both kids did well as Miller has a had an incredible off season, and will be called upon to replace 5 D1 kids up front.
Cox returns from an all league year and is ranked one of the top O lineman in Oregon for the 2014 class. Teammate Walker Lukens (Southridge) has legit size and will benefit from the elite line coaching at Southridge.
1st team all league lineman Joe Kuenzi (Jr. Silverton) more then impressed. He was in the discussion for MVP lineman at the end of the day. Sophomore teammate Cody Gubbels (Silverton) did very well himself. He will be a factor down the road for the Foxes.
Jordon Hass (Jr. Springfield), Craig Fobert (Jr. Canby), and Will Young (Junior College) were three other O lineman that were very impressive on the day. Haas had a phenomenal winter and will return as one of the state's top 10 ranked lineman. Coach Dave Heuberger has done a great job of getting things turned around and making the Miller's one of Oregon's 5a best.
Fobert is a kid that we have ranked as one of the top 15 lineman, as he will play for one of the region's biggest lines in Canby. Young is a JC kid that was originally a skill position player from Sandy. He has worked as hard as anybody and is looking for a place to call home.
Last but not least are three of OR's 3a lineman who will each play a pivotal role for their teams next season. Josh Markham (Salem Academy), Andrew Kline (Salem Academy), and Aidan Kragero (Horizon Christian) . Markham has improved as much an anybody and has grinded all off season, looking fundamentally sound. Kragero will be one of the few returners on Horizon's team and will have to lead in 2013.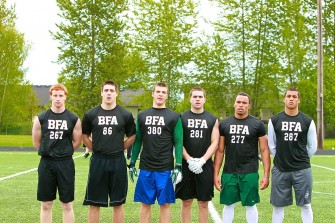 LB's
The 2014 linebacker's in Oregon could be the best group to ever come through the state. Jesuit's Joey Alfieri was the overall camp MVP with Mondeaux, and could go down as the most recruited backer to ever come out of the state.
Sam Bodine (Jr. Canby) was the defensive MVP and is a kid that we consider this years Johnny Ragin, who committed to CAL. Ryan Nall (Jr. Central Catholic) has an equally big upside with freakish strength, and will have some big time offers when all is said and done. He has been offered by PSU, but will have a good portion of the Pac 12 or similar universities by signing day.
State strong man AJ Hotchkins (Jr. FB/LB Tigard) currently holds offers from Idaho and Portland State, and could be the first HS athlete ever to rack up manslaughter charges on the football field. That was a complimentary joke.
Nick Underwood (Jr. Lake Oswego) won the 40 yard dash competition for the 2nd year in a row (4.50), and will be a three year all league starter and one of the state's top backers.
Peyton Dole (Jr. Eagle Point), Marcus McGovern (Jr. Sheldon), and Chris Loveless (Jr. Westview) are three other top juniors who did very well on the day. Dole will be a three year all league starter and has unlimited potential with his size. McGovern could be the sleeper of the year, as he looked outstanding on Sunday playing his natural position at linebacker.
Loveless had one of the better camps of anybody and will need to be lights out for the Wildcats this season, with teammate Hank Kamakaala (Jr. Westview) being that other kid who must have a big senior year for the Cats to make a run.
Kevin Lahoda and Levi Stadeli will be two of the better backers in the Mid Willamette conference, as the Foxes have a lights out D and West Albany returns everybody. Lahoda has athletic genes, and will be a key player for the Bulldogs who will be a 5a state title contender. Stadeli is one of the more unknown kids that has looked very good at workouts over the off season.
Dreyvhon Stewart (Wilsonville) was our MVP LB for the underclassmen, and will need to come up big for the Wildcats this off season . Donovan Hinkle (West Salem) and Jacob Handran (Blanchet) were two of the other backers who did well and should be a factor in 2013.
DB's
The state's #1 corner was in action on Sunday in Aaron Washington of Central Catholic, but was injured earlier in the day. We will see him back soon.
James Schell- Buchanan of Roosevelt stole the show, and was selected an MVP DB on the day along with Tigard's Manu Rasmussen. Schell- Buchanan continues to climb the charts and looked like a legit D1 kid on Sunday. He is a camp guru and someone that rarely misses anything, as this was by far and away his best performance ever.
Rasmussen is a lock down corner and will be a player of the year candidate on both sides of the ball for the Tigers.
Top ranked juniors Zach Farnes (Jr. Clackamas) and Chandler Schoonmaker (Jr. Tualatin) are NEI favorites, as both will have very successful senior campaigns. Farnes was one of the state's leading tacklers from his LB spot, but will play more of a strong safety position in college.
Schoonmaker was an all league kid and projects as Tualatin's top overall athlete. He was injured early in the day, but should be huge for the T Wolves on both sides of the ball.
West Albany had two underclassmen MVP the event in Joey Roos and JT Valenzuela. Roos was a 2nd team all league athlete, and will come back ranked one of the better DB'S in the state for the 2015 class.
Valenzuela is in a very similar situation after starting as a sophomore, and will be a part of a very talented Bulldog team that will challenge for the state title.
Two Washington youngsters that had big days were Zach Smith (Capital-Fr.)and Jacob Bystry (Columbia River-So.). Smith MVP'd the event for freshman for the 2nd week in a row, and Bystry was one of the more impressive youngsters in attendance.
Josh Dooling (Lincoln) , Ian O' Brien (Union WA), Brendan Van Voorhis (McNary), Luke Ferguson (West Salem), Justin Larson (Salem Academy) and Zach Raab (Salem Academy) are all other DB's that you will see be a factor in the coming year.
Youth Combine Testing Results
| | | | | | | | | |
| --- | --- | --- | --- | --- | --- | --- | --- | --- |
| Last Name | First Name | 40 yd dash | Shuttle | Long Jump | Height | Weight | Hand size | Wing span |
| | | | | | | | | |
| Bennett | John | 6.4 | 5.91 | 4'7″ | 58″ | 87 | 7″ | 57.2″ |
| Burgess | Matthew | 5.59 | 5.15 | 6'3″ | 61.5″ | 110 | 7.5″ | 61.8″ |
| Cann | Alec | 6.2 | 5.27 | 5'9″ | 57″ | 82 | 7″ | 55″ |
| Cornish | Brogan | 6.16 | 5.35 | 5'9″ | 59″ | 111 | 7″ | 58″ |
| Conover | Jacob | 5.65 | 5 | 6'11" | 65.5″ | 115 | 8.5″ | 68″ |
| Dungey | Matthew | 5.05 | 4.66 | 8′ | 68″ | 150 | 8.2″ | 66.7″ |
| Franklin | Michael | 5.8 | 5.25 | 6'3″ | 62″ | 92 | 7.9″ | 60″ |
| Frizelle | Camden | 5.2 | 4.78 | 6'5″ | 64.3″ | 121 | 8″ | 64.1″ |
| McMurrin | Jamal | 5.4 | 5.05 | 6'4″ | 58″ | 84 | 7.3″ | 59.5″ |
| Polanski | Elias | 6.4 | 5.75 | 5'3″ | 59″ | 86 | 7.6″ | 58.2″ |
| Rash | Benjamin | 6.35 | 5.72 | 5'3″ | 57.5″ | 99 | 7″ | 58″ |
| Richardson | Colton | 7.18 | 6.6 | 4'10" | 61″ | 136 | 7.4″ | 61.1″ |
| Robinson | Peyton | 5.5 | 5.15 | 6'10" | 66″ | 114 | 7.4″ | 66″ |
| Scroggins | Tucker | 6.25 | 5.34 | 6'1″ | 65″ | 131 | 8″ | 63.5″ |
| Stomps | Brock | 7.95 | 6.7 | 3'7″ | 47.2″ | 47 | | 46″ |