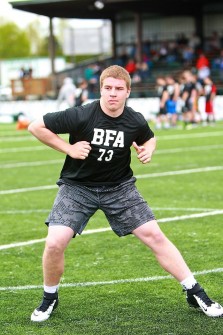 If you haven't heard the name Tyler Cox before, you better get yourself acquainted – especially if you are a defensive lineman in Oregon's competitive Metro League.
The 6-foot-3, 250-pound guard was an anchor on Beaverton (OR) Southridge's young offensive line last season and figures to be a consistent force up front for the Skyhawks this year, as they look to 3-peat as League Champs.
And he is determined to make that happen.
"I want to establish myself as a team leader, and All-League or even All-State would be nice," Cox told NEI. "But honestly I just want to help us win league for the third year in a row, and win a State Title."
Cox was recently at the Barton Football Academy Combine in Salem, OR – with fellow offensive lineman Walker Lukens – where we were able to see him face off against some of the state's best in one-on-one drills, and he did not disappoint. He showed great strength and balance, and has superior footwork. He also stood out in individual drills, instructed by BFA coach, and former Oregon State and Chicago Bear offensive lineman, Alex Linnenkohl.
"Talent-wise, the competition at Barton football is the best," Cox said. "And the drills with Alex are always great. He is a great teacher and is so patient."
Cox says he has gained 40 pounds this offseason, which makes his performance at Sunday's combine even more impressive, as he was essentially competing in a "new body".
Somewhat indicative of his stock rising, Cox received a visit at school from Portland State earlier this week. He has also received hand-written letters from Boise State, which he describes as one of his "highlights" so far in the recruiting process.
This summer he plans to camp at "at least" Montana, Montana State and Western Oregon.
A 3rd-Team All League performer in his junior season, Cox also works hard in the classroom to maintain his 3.5 GPA.
Cox and many of his fellow Skyhawks will be ones to watch this fall, as Southridge will be one of the top ranked teams in the state.