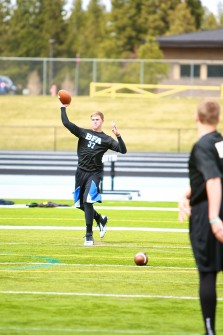 Medford (OR) Cascade Christian is a motivated football team.
After going 13-0 before falling to Dayton HS in last year's 3A State Final, the Challengers want to get back to the title game in 2013 and win it all.
Class of 2015 QB Jacob Moore is a motivated football player.
After splitting time last season, he is eager to secure Cascade Christian's starting job and help his team attain that goal.
"There is no better feeling than having the ball in your hands and having the responsibility to lead your team," Moore told NEI.
If Moore can continue to progress as he has this offseason, he will earn the opportunity to do just that.
"Jacob has a lot of natural ability as a passer and runner," Cascade Christian Coach Jon Gettman tells us. "The quarterback position is one of leadership and that is what we are looking for Jacob to do. We are looking for our leaders to be men of integrity, who are willing to put in the time and effort to make themselves and the team better and put the team ahead of themselves."
Though the Challengers' QB competition officially remains wide-open, Moore has been working like it was his job to lose. He has attended several Elite Camps in Portland this spring, and recently was a standout performer at the Barton Football Academy combine in Bend – but that's just the stuff he has done on his own.
According to Moore, the players at Cascade Christian have voluntary workouts regularly before school during the weekdays, and attendance has been high.
Moore says players such as returning All-League LB Dante Olson, Stephen Joffer, Cody Parker, Jake Brown, Aaron Cesaro and TJ Alvarez. All will be key players for the talented Challengers as they look to make another run at a state championship under Coach Gettman.
"I think we are really motivated as a team," Moore says. "We are hungry to build on our success from last year, and ultimately get back to the state title game and win it this time."
Besides working to win the QB job, Moore has personal goals he wants to accomplish, too. "I want to grow as a player, glorify God, and be the best player I can be – not just for myself but for my teammates."
Moore will attend the BFA Combine in Medford on May 5th, and look to have another impressive showing among some of the top talent in Southern Oregon.
Off the field, he carries a 3.2 GPA and says his favorite subjects are history and english. He also has plans to volunteer Providence Medical Center his summer.
Moore and all of Cascade Christian's players clearly have high aspirations this season, but the even-keeled Coach Gettman is keeping them focused on the process, rather than the result. "Our expectation for next year's team is that they are a hard-working, dedicated, and humble group of men who strive to glorify the Lord as they fly around on the field," he says. "If they do that they should compete at a high level."