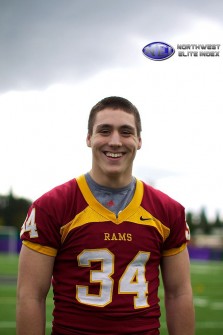 One of the fastest rising recruits in the entire region is Ryan Nall (6-2 225 Jr. LB/RB) of Central Catholic. The kid has freakish strength and just continues to impress, and on Thursday landed an offer from an up and coming Northern Colorado team.
Oregon's top defensive player last season Dallin Leavitt says, "Dude's a mini Colt Lyerla". I would project Nall to have at least half the Pac 12 before all is said and done, as you can't teach the combination of size, strength, and speed that he possesses.
Referencing the offer Ryan says, "It was a little unexpected but I'm still grateful for the offer, I now have the opportunity to play with and against my brother".
Many remember Ryan's brother Jacob from a few years back, who a was a former Mt Hood Conference Defensive Player of the year himself, and accepted a scholarship to stay at home and play at PSU.
Ryan now has offers from Portland State and Northern Colorado, and was one of the most impressive kids at our Barton Camp/Combine in Salem last weekend. His testing scores for an athlete his size are pretty ridiculous, and the word is good from high levels D1's
We wish Nall continued success on and off the field. He's an outstanding kid and someone projected to have double digit scholarship offers before next years signing day.