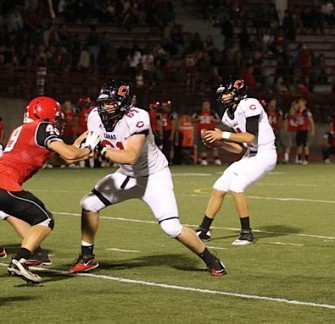 Camas (Wash.) QB Reilly Hennessey realized a dream come true Wednesday evening, when the 6-foot-3, 190-pound signal-caller picked up his first scholarship offer from Eastern Washington.
The state's No. 3 ranked QB for the 2014 class had reason to be excited, as EWU is typically a program that doesn't extend many early offers, especially to quarterbacks.
"I know they don't typically offer players before the season, and Coach Baldwin made sure I knew that on the phone," Hennessey said via phone Wednesday evening. "I actually thought he was setting me up to tell me that they weren't going to be offering at this point, but then he told me 'we feel a little different about you, and would like to offer' and I was just stunned."
Hennessey is familiar with the EWU program. He has visited campus several times and has known Eagles' QB Zak Hill for several years as an attendee of Hill's QB camps.
Hennessey wasn't the only Papermaker to land an EWU offer Wednesday, as OL Drew Clarkson was also offered a scholarship. "It is a great feeling getting the offer. It definitely took me by surprise," Clarkson told NEI's Jordan Johnson. "They told me they do not usually offer this early but they said they loved me on film and wanted to go ahead and offer me. It's a great school with great coaches and I can't wait to go and visit."
Reilly says he plans to attend Eastern's QB camp in July, as well as camps at several other school's showing interest in him. But for now, he just wants to enjoy this feeling a little longer.
"It means so much to me, I honestly felt like my dreams came true," Hennessey said. "It makes all the work and sacrifices worth it. I now know that no matter what happens with the rest of the recruiting process that I have the ability to go somewhere that I will be truly happy."
Hennessey, who admitted to being choked up when receiving the news, said he never expected getting his first offer would feel like this.
"I tweeted earlier in the day that my life could change tonight, but I really had no idea," he said. "Well, my life did change today."