http://www.hudl.com/athlete/762028/joey-alfieri Joey Alfieri HUDL
http://www.youtube.com/watch?v=GsNjjqvDsLE Barton Regional Camp/Combine Highlights (Salem)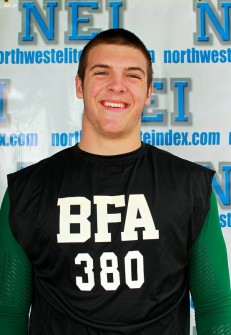 Jesuit standout LB Joey Alfieri (6-3 225 Jr. LB/RB) just continues his offer tear as the CAL Bears made their intentions known today. Alfieri is without question one of the top ranked backers in the country, as a majority of the Pac 12 schools have now offered.
Referencing the offer Joey says, "It feels amazing to have the CAL offer.. I went to their junior day in early March and loved the campus and especially the coaching staff".
He continued, "It's just a great environment and CAL has prestigious academics and a great football program, which are the two main things I am looking for in a school".
As we have said time and time again Joey is an elite student with a 3.8+ GPA and all AP classes. He will be a three year first team all league starter, and the favorite for Oregon 6A Defensive Player of the Year honors in 2013. At this rate he very well could be the most recruited linebacker in state history, with SEC schools and the likes of Notre Dame and USC paying close attention.
Every school can take comfort in the fact that Joey is a gamer and focused on and off the field. He's a leader in every sense of the word and a kid that has trained with us for the last few seasons. He says, "I'm looking forward to getting better for my senior year and going to the Barton camps to compete against the best athletes in the northwest".
You can't teach a lot of what Joey has in his arsenal. NFL genes and outstanding testing times are just a few of the attributes that speak to his game. Wisconsin offered Joey's after watching four plays of is film. Check Joey's highlights from our regional camp/combine in Salem from a few weeks back. The kid is lights out and someone we look forward to following for years to come.