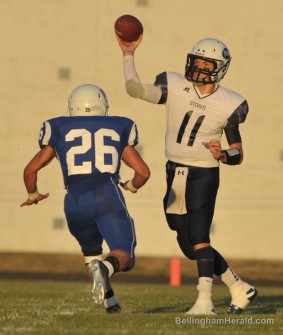 The talent coming out Washington's Northwest conference as of late, has been on a steady roll.
In the last few years we have seen four players from Lynden go to D1 schools, Bellingham's Thomas Vazorka head to Idaho State, and one of the state's all-time leading rushers, Mario Gobatto come out of Blaine HS, just to name a few.
There's another player starting to make noise in the area, and that's Bellingham (Wash.) Squalicum QB Clark Hazlett.
Hazlett, who will be a junior in 2013, is entering his third year as starting QB of the Storm, and Squalicum will look to take advantage of having an experienced signal-caller this fall.
As Hazlett puts it, "We have traditionally been a run left, run right kind of team. This year my coaches are putting in a new offense, I can't wait!"
That offense Hazlett is referring to, he says, is a "spread option style" scheme. It should highlight not only Hazlett's abilities, but also those of players such as RB/WR Nick Manchester, WR Neall Koetje and last year's leading WR Ben Garcia.
A strong core of players up front should help the Storm as well. OL/DL Joel Jensen, OL/DL Ryan Thurston and OL/DL Dan Russell are among the war daddies who will lead the way in the trenches.
It would be easy for a QB entering his third season as a starter to be somewhat complacent, but that is nowhere near the case with Clark. When asked about his personal goals this season, he rattled of quite the list. "I want to develop into a true dual-threat QB in our new offense and I also win a state playoff game. I plan to continue working hard in the weight room, throw every day, run every day, be a student of the game, and most importantly, lead by example," he says.
His coach, Reed Richardson, confirms Hazlett walks the walk. "Clark is an outstanding kid. He is a very hard worker and is constantly searching for any way he can improve," Richardson tells NEI.
The 6-foot-3, 195-pound Hazlett is a competitor in every sense of the word. He says he craves high-pressure situations and challenges that come with being a QB. He says the team wants to defeat league-rivals Ferndale and Lynden this season – which will be the type of high-pressure games Hazlett loves.
It's talented players like Clark Hazlett and programs like Sqaulicum that motivated Barton Football Academy to hold a combine in Bellingham this year. Like we said, there was been a growing number of college players coming out of the Northwest conference, and there is no reason to believe Clark can't add his name to that list.