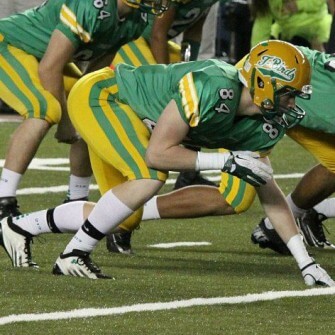 A kid that stood out at our elite events and comes off the end as quick as any D end in the northwest, Nick Foerstel (6-3 215 Jr. DE/OLB Tumwater), got his first offer Tuesday night from the very busy Northern Colorado Bears.
Foerstel will be part of a Thunderbirds group that will be favored to win the Washington class 2A state title next season. Referencing the offer Nick says, "It feels great, it was a huge weight lifted off my shoulders… I'm glad it came when it did, because I need something to drive me through a really intense off season."
Nick made life miserable for offensive lineman last year who couldn't handle his speed and overall athleticism. His upside is extremely high, as he has a long frame and plenty of room for growth. You can expect Foerstel to be a 2A Defensive Player of the Year candidate and make Tumwater very difficult to beat.
One of Washington's top QB's and teammate/friend Jayden Croft said, "He has a high motor and will be a key leader, and play a huge roll on the defensive side of the ball". He continued, "I've grown up with Nick and am really happy for him, its great to see his hard work paying off".
Doing the broadcast of the state title game last season, I noticed Foerstel as maybe the most dominant player on the defensive side of the ball. He will double teamed consistently this season as he says, "Now its time to turn it up and bring back that state championship."
We wish Nick continued success. He has worked hard to get to where he is at, and we look forward to reporting on him and his Thunderbird team over the off season.