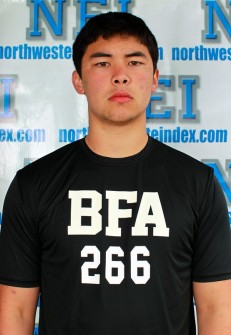 Big news out of Eugene as one of Oregon's top ranked D ends, Liam Talty (6-4 230 Jr. DE) of Sheldon, received his first D1 offer from the Big Sky Northern Colorado Bears.
Talty is coming off a monster junior year, having an MVP type performance in the state championship game. He went for 77 tackles, 3 sacks, and 3 Int's in 2012, and was a fixture at our elite events and on the Barton Camp and Combine tour the last two seasons.
Referencing the offer Liam says, "I feel great… I had a really good talk with Coach Chris Smith and we discussed their medicine program and all that they had to offer". He continued, "I'm really happy that some of the hard work is paying off, because I have put so much effort in to the last two seasons… The first offer seriously means the world to me".
Coach Smith and his UNC group continue to do great work in the northwest as I cant say enough good things about Talty. He has spent the last two years training with us at Barton, and was also part of our Team Oregon all star squad that we coached at the winter showcase.
Sheldon is regarded as one of the most successful and classy programs in the country, and Liam is a perfect example of what the Irish program can produce. We wish Talty continued success over the off season, and think this could be the first of many scholarship offers to come his way.