Coupeville (Wash.) head coach Tony Maggio is a man with a plan.
The Wolves' second-year head coach was pleased with the growth his team showed in his first season at the helm, and as he enters year two, his optimism for the programs continued progress is evident.
"We are working hard. I think we will put together a good team this year," Maggio tells NEI. "Our goal last year was to be competitive cause we hadn't really done that in the past. But this year the goal is to win."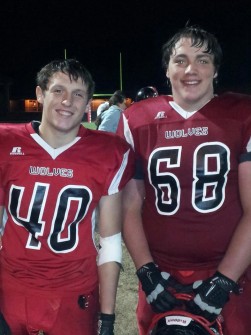 When Maggio took over at Coupeville, one of the first things he did was install a new offense – as most coaches would do when taking over a program. He identified a system that he thought would best suit his players: the Wing-T. It's not your traditional Wing-T offense, however. Maggio's version is a bit of a hybrid – one that uses the passing game more than most orthodox versions of the scheme.
He is hoping the instillation of that offense last year, will pay dividends this season. "It's another year in the same offense, so the kids know it now," Maggio says.
Now, Maggio isn't naive enough to think that merely another year in the same system will equate to improvement. Instead, his confidence comes largely from the fact that the Wolves did not have a single senior score a TD for them last fall – every point scorer is back.
Coupeville also has a strong core of leaders that it will rely on in 2013. Lineman Nick Streubel, RB Jake Tumblin and RB Brett Arnold are players Maggio mentioned as difference makers in the program's turnaround. Arnold in particular could be a big factor in the Wolves' offense. "As our fullback, he is gonna be huge for us this year. I think he's gonna shock some people," Maggio says.
Strong offseasons are also being turned in by DB/WR Wade Schaef and QB's Josh Bayne, Gunnar Langvold and Tyree Booker – all of which who will compete for the starting job this fall.
The Wolves are also implementing a new defense this season as Maggio continues to orchestrate a turnaround at Coupeville – he says the installation of that scheme will be a main focus during spring ball. But Maggio wants to see his offense evolve too. An ideal scenario for the Wolves would be around 1500 passing yards this season and 2500 rushing yards according to the coach.
The program has been growing off the field as well under Maggio. Players such as Streubel and Tumblin have been received interest from college coaches at various levels, and according to Maggio a coach from University of Wyoming even plans to visit campus this week – something that he takes great pride in.
"From a coaching standpoint, I want to do everything I humanly can to give these kids an opportunity to compete at the next level and in life after football." he says.
With Maggio leading the way, something tells us that won't be a problem.