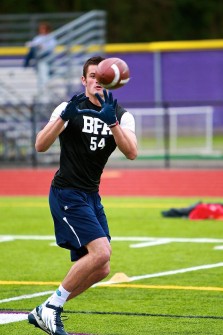 A team on the rise but still with a lot of question marks are the Tides out of Gig Harbor. We have seen a handful of kids at our elite events, and most recently our regional Issaquah Barton Camp/Combine where they each did very well. Reese Carlson (6-4 205 Jr. WR/S) looked super legit, and was selected as one of the WR MVP's on the day with triple digit kids in attendance.
Gig Harbor went (3-7) last season but their record was somewhat deceptive, as they battled most teams tough throughout the year. The kids have been pro active this off season, working hard on and off the field. Carlson caught 32 passes for 700 yards and 7 Tds last season, earning 2nd team all league honors.
Owen Taylor (6-4 290 Jr. OL) was another second team all league kid and is moving up our state wide rankings board. He says, "We want to make a run in the playoffs and be a team that can beat you passing or running the ball". He continued, "Defensively we want to be aggressive and put the other team on their heals the whole time… Personally I would like to earn 1st team all league honors and gain some all state recognition".
Featured RB Sterling Brown (5-10 180 Jr.) will be back to take the bulk of the carries, after going for 922 yards on 179 carries and 10 Tds a year ago. He will have some returning lineman back including Nate Ellis (6-2 245 Jr. OL/DL) who also showed up at our camp/combine and did well for himself. He says, "We want to have a dominant run game and be able to move larger D tackles out of the box". Ellis was impressive all day using his speed and strength to his advantage.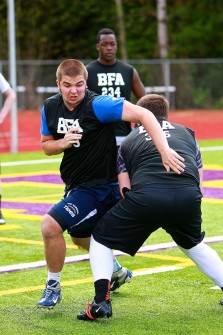 Connor Scanlan (6-1 190 Jr. ATH) was another skill position kid that did well on the year going for over 1000 all purpose yards and 5 Tds. Three athletes tied for the team lead in picks with (2) in DB's Levi Alton (5-10 165 So.) and junior Danny Youngren (6-0 170 Jr.) This years middle linebacker Brett Villa (6-2 195 Jr. DB) also had 2 Ints, and will be one of the better defensive players in the conference. Youngren (32 tackles) and Villa (47 tackles) were two of the teams leading tacklers last year, and provide the group with some solid veteran leadership.
You can also expect lineman Brandon Schmunk (5-11 215 Jr. DL) and Jake Choate (6-4 230 Jr. OL/DL) to contribute up front, while current freshman Noah Samsen (5-10 170 ATH) could be one of the better players in Washington for the 2016 class.
Reese Carlson is a kid that will play an outside linebacker type spot defensively, as his performance a few weeks back make him one of the most intriguing prospects in the region. Head coach Aaron Chantler will be leading a group of guys that could challenge for a conference title next season despite last season's turn of events. They had made the playoffs 11 of the last 12 seasons going in, so their expectations remain high.
The transition with long time head coach Darren Mckay leaving, and standout athletes Robert Luke, and Garrett & Carter Mckay transferring definitely took some getting used to. That said, each athlete moved on and did well and Gig Harbor looks to be back on the right track.
Carlson says, "Coach Chantler has stepped in and done a good job… all the guys really like him and we are excited for the 2013 season to get underway".
Its great to see the Gig Harbor athletes grinding this off season. They return 8 kids on each side of the ball and we look forward to following this talented football school in the coming months.