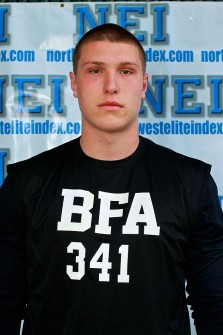 It's been a busy week for Bellevue (Wash.) Newport tight end, Drew Sample. In the last seven days, the state of Washington's #1 ranked TE in the class of 2014, took home offensive MVP honors at the BFA Issaquah Combine and then followed that up with two FBS offers.
Late last week, the 6-foot-4.5, 232-pound Sample picked up an offer from the University of South Florida of the American Athletic Conference (formerly known as the Big East).
"The South Florida offer was a nice surprise. I hadn't talked to them at all really until they had me call them. When I called them, they offered," Sample told NEI. "I think it's awesome that they are all the way in Tampa, and hopefully I will be able to visit. It's pretty cool that a team from Florida is recruiting the Northwest."
Fresh off the heels of his USF offer, Sample picked up yet another FBS offer, this one from the University of Wyoming, when Cowboys assistant coach Jason Gesser was on Newport's campus Monday.
"Coach Gesser from Wyoming stopped by school today, and my coach had a good talk with him, during which they told my coach that they were offering me a scholarship," Sample said via text. "It's great to get another offer."
Sample also holds an additional FBS offer from Idaho, as well as offers from Montana and Northern Colorado, a pair of FCS schools.
"I truly am honored to be in the position I am, and I look forward to learning more about the programs at Wyoming and South Florida," Sample added.