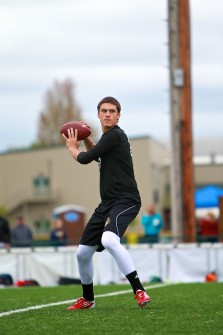 On a yearly basis, the state of Washington produces a crop of talented signal-callers and this year is no different. One of the top gun-slingers in the state is Camas' Reilly Hennessey who helped lead the Papermakers deep into the state 4A playoffs as a junior this past fall.
Hennessey has a great frame and a strong arm and used those two traits along with his solid Football I.Q. and leadership skills to total over 2,800 yards while completing 62% of his passes with nearly 30 touchdowns and only nine picks while leading the Papermakers to a 12-1 record and a berth in the state semi-finals where he and his teammates lost to eventual state champion Skyline.
So far this spring, Hennessey has been working on perfecting his craft while hitting the Barton Combine/Camp in Salem, Oregon and he's already mapped out where he will be camping later this spring and summer.
"I'm definitely going to the Barton Combine in Vancouver in a couple of weeks and the Battle in Seattle (Memorial Day weekend) and that's it for this month, but in June I'll be doing a lot," Hennessey said. "I'm going to go on a tour of schools in Colorado and Utah. It's a four or five school tour — Northern Colorado, Colorado, Colorado State, Utah and Utah State — and I'll meet with those coaches for a while.
"Then I'm going to the San Jose State camp up in Bakersfield (Ca.), our team camp at Oregon State which is always fun, the NEI Showcase (June 30th), the Montana State camp on June 28th and the Eastern Washington camp on July 26th."
That is a pretty rigorous schedule, but one the ultra-competitive Hennessey is ready to embrace.
"I just love to get out and compete. It's fun for me and the camps are pretty spread out," Hennessey said.
While he doesn't have any offers to this point, expect things to pick up over the next few weeks as he hits the camp circuit and puts his ample talents on display.