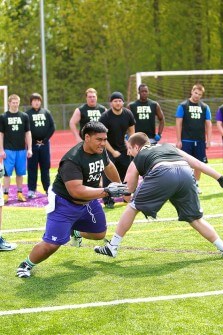 Kirkland (Wash.) Juanita DT Thomas Toki picked up his first offer Friday evening from the UCLA Bruins.
The 5-foot-11.5, 285-pound Toki is the No. 1 ranked defensive lineman in the state of Washington for the class of 2015.
Toki said that he was offered by UCLA assistant Steve Broussard.
"This is a big surprise," Toki told NEI via phone Friday night. "My coach told me I needed to call Coach Broussard, and when I did, he told me they were offering me a scholarship."
Toki has been one of the most dominant players in the state at the DT position, and has had a strong offseason.
"I just feel blessed right now,. I never expected it," Toki added. "I have always been told I was too short to play at a big school, so I am just so grateful that they believe in me."
Toki said he has never been to Los Angeles, but plans to attend camp there this summer at some point.