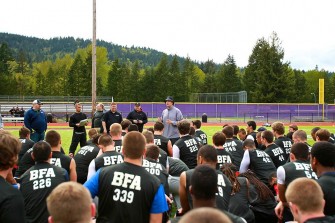 ** There are a lot more kids not mentioned here that we are hoping to see Sunday. Southern Oregon football brings a lot of pride and tradition to the state, as we always look forward to getting down South.
Our first three camps and combines on our 8 city tour have been outstanding as the numbers have been great. We hope to see a majority of the top talent in Southern Oregon and a host of kids that we otherwise wouldn't get to.
OR** You may just show up at the field and register
SOUTH MEDFORD
2012 (8-2)
Year in and year out the Panthers of South Medford are challenging for a SWC title, and usually considered one of the better 6a teams in Oregon. Its a class program that continues to produce top talent and this year will be no different.
We expect to see South be Sheldon's stiffest competition for a league title behind junior to be Craig Contreras (6-2 215 So.), who came in and did an outstanding job last season at quarterback.
The big signal caller will have weapons all around him with one of the state's top 10 RB's back in Christian Bowley (5-7 170 Jr.). Bowley has a combination of speed and power and is extremely elusive with his size.
Junior Eric Wallan (6-2 175 Jr. WR/DB) has football genes and was an honorable mention all league DB a year ago. He can play multiple spots and will be a big contributor. Jacob Ridgeway (6-1 210 Jr. TE) had an outstanding camp/combine in Bend a few weeks ago and will be solid target for Contreras, as Tristian Lallo (6-3 200 Jr. DE/ATH) could be a kid that gets in the mix as well with the departure of all-everything WR/DB Adrian Garcia.
Cesar Cabrera (5-9 235 Jr. OL) earned 2nd team all league honors offensively, with Kyle Eli (5-9 205 Jr. DL) grabbing honorable mention D line honors. Jake Sager (6-4 230 So. OL/DL) and John Milholin (6-3 280 Jr.) will be two of the other kids that contribute a great deal up front.
Rounding out the defense will be one of the better athletes in the entire SWC in Anthony Gomez (5-7 185 Jr. LB/RB). Gomez was a 2nd team all league kid at LB last season, and could be equally dangerous on the offensive side of the ball.
In summary the Panthers will be good once again, as we are hoping to see a good precense from the South Medford athletes this weekend.
NORTH MEDFORD
2012 (2-8)
The Black Tornado are a group of kids that we have gotten to know well as they are one of the fastest rising teams state wide.
Every week during the winter a group of N.Medford athletes would travel to Portland to attend our elite events, with the other top kids and players from around the region. It was dedication the likes we have never seen before.
North has a phenomenal 2015 class led by QB Troy Fowler (5-11 165 So.), who will be a three year starter with an arsenal of weapons around him. Jared Evans (6-3 195 So. WR/S) and Nick Janakes (6-0 190 So. RB/DB) are two of the better sophomores state wide. Evans is a big wideout that traveled with us to Vegas and is ranked as one of the state's top WR's, while Janakes was an all league kid on both sides of the ball and is a superb overall athlete.
You can expect young guns Tristin Holmes (6-1 170 So. WR/DB) and Josh Hansen (6-0 165 So. WR/DB) to team with Eugene Ellis (6-0 175 Jr. WR/DB) giving the the Tornado three more solid perimeter players.
Honorable mention all league sophomore LB's Edmund Polataivao (6-1 190) and Colton Westfall (5-11 185) both return, and will be two of the better players in Southern Oregon and beyond in the coming years.
I can't say enough good things about the kids from North Medford. Head coach Mike Mitchell has a group of athletes that have won together growing up, and will be much better in the coming years. As much as any team in the Pacific Northwest we are backers of the Black Tornado.
ROSEBURG
2012 (6-6)
Much like North Medford, the Indians of Roseburg have been a traditional power within the state of Oregon over the years. Head coach Thurman Belle is a legend with multiple state titles, but communities all over the NW have changed in the last decade.
It was good to see some of the Roseburg top lineman at our elite events during the winter. Shon Atterbury (6-2 275 So. OL) and Isaiah Smith (5-11 265 So. DL/OL) made the trip up to Portland, and got to see some of the other top talent from around the region. Both will be key components to the Indians line.
Cody Walker (6-1 175 Jr. ATH/DB) did an outstanding job as a defensive back last year earning 2nd team all league honors, while River Sigrest (5-11 185 Jr. LB) did very well for himself racking up honorable mention all league honors at backer.
Two all league kids return on a team that will need to have a bunch of younger athletes step up. It will be a telling year for the Indians who are looking to return to their years of dominance. We look forward to seeing a group out of Roseburg.
GRANTS PASS
2012 (3-7)
GP is another school that carries a lot of tradition, but has gone through some tough years as of late.
The Cavemen were much more competitive then their record indicated, as they dropped two non conference games by 3 points to Clackamas and 6 to West Linn. This was followed up by conference losses to Crater (28-23) and South Medford (10-7), before losing in the first round of the playoffs to McNary 13-6.
It was a season that saw Grants Pass score 263 points to their opponents 270, in what as an improvement from the previous year.
GP returns three all league lineman from a year ago who will make the Cavemen competitve up front. 2nd team all league returner Drake Brennan (6-7 240 Jr. DE) is an absolute monster coming off the end and will be relied upon heavily.
Vinnie Shuler (6-2 260 Jr. OL) and Jordan Thatcher (5-10 200 Jr. DL) were both honorable mention all league selections, and provide the team with two additional vets who should help out a great deal.
CRATER
2012 (4-6)
The Comets lose maybe the two most high profile kids to ever come through their program in Derrick TuriTuri and RJ Morgan.
That said its a great community with a lot of young talent that has produced some top athletes over the years. Ty Fox (Jr. QB) returns after taking a bunch of snaps from the quarterback position last season.
Carlos Higuera (Jr. RB/LB) is back after earning 2nd team all league honors at LB and carrying the ball 78 times for 3 Tds.
Kory Bennett (Jr. WR/RB) and Davey McCollum (Jr. DB) will also be key skill position players for the Comets. Bennett caught 20 passes, 2nd to RJ Morgan's 25, and was also a viable rusher. McCollum had 2 Int's on the year and will be a key member of the secondary. Both kids are the featured kick and punt return men.
Don't sleep on sophomore Dylan Morgan as he did well last season, and has very athletic genes. He will be part of the youth movement in Central Point.
EAGLE POINT
2012 (5-5)
The kids out of EP will have 7 all league athletes returning from 2012. Both Peyton Dole (6-3 215 Jr. ATH) and Austin Holmes (6-4 245 Jr. OL/DL) are ranked among the top kids in Oregon on our boards as they have had outstanding off seasons thus far.
Dole is a very athletic H back type that can also play multiple positions on defense. He was hurt as a junior, but will be a three year all league starter and a kid we think very highly of. Austin is the brother of Montana athlete Tyrone Holmes who could be one of the top athletes in the country at the D1aa level. Austin was an all league kid on both sides of the ball last season.
Rick Pedersen (5-10 210 Jr. OL) earned 2nd team all league honors, and Bryson Baker (6-4 225 Jr. DE) was an an honorable mention all league athlete who will both help sure up the line next season.
Seth Arena (5-9 165 Jr. RB/DB) was a standout on both sides of the ball earning 2nd team all league honors at defensive back, while also being one of the teams leading rushers. You can expect Carlos Flores (6-0 195 Jr. WR) to be one of the top WR's in the conference after earning honorable mention all league honors last year.
Jorge Quintero will return at QB, as Holmes and Dole are the ideal leaders for high any school group. We really like this Eagle squad and look forward to seeimg them Sunday.
ASHLAND
2012 (7-4)
If we are talking tradition this is a school that has a lot of it. Co Defensive Conference Player of the Year Mason Montgomery (6-0 210 Jr. LB/C) will return as a four year all league starter. Something very rare at any level. He is an elite wrestler and an even better kid, but is injured for this event.
The Grizzlies will bring back three all league lineman in Joe Hearn (6-1 200 Jr. DL), Cody Eisenberg (6-3 235 Jr. T), and Tyree Heesacker (5-10 235 Jr. DL) who should help bring much needed experience up front.
Hearn had a great junior campaign, racking up 2nd team all league honors with both other athletes grabbing honorable mention all league honors.
Ashland will have a great deal of experience coming back at the QB position with Danial White (6-0 180 Jr.), after he split time as a junior and started as a sophomore. His ability to use his feet is outstanding.
The Grizzlies will have some younger athletes that should step up as well, with one of the state's better freshman, Sashi Penn (5-11 160 Fr. ATH) making a trip up to Portland for our elite events and having a very impressive showing. The kids from deep down South will once again be in the mix for a conference title.
CASCADE CHRISTIAN
2012 (13-1)
https://www.northwesteliteindex.com/2013/04/26/jacob-moore-cascade-christian/