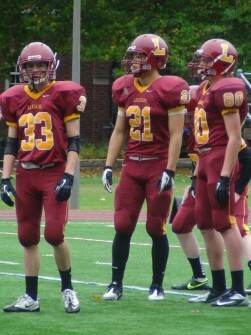 He doesn't look like your typical football player.
He looks more like a guy who will be signing your paycheck someday as the CEO of a major corporation.
But, in reality, looks can be deceiving, because while Seattle (Wash.) Lakeside School RB/WR/DB Cole Stephens may not "look the part" to some people, the minute he steps on a football field, that all changes.
You see, the 5-foot-9, 150-pound Stephens wasn't allowed to play football until the 9th grade. He says his parents thought football was too dangerous, and were worried about his size.
Most kids would probably discouraged by this edict, or find other sports their parents might allow them to participate in. But for Cole Stephens it only served as motivation. "I spent all my free time in middle school preparing for high school football," Stephens told NEI. "The conditioning, the running, the weights – everything we do in the offseason, to me, is a gift. I am just happy for the opportunity to do anything, because there was a time when I couldn't."
And for the class of 2015 speedster, all that work is starting to pay off.
Stephens, who has been a standout performer at Elite Events this spring, gained varsity experience last season on special teams and in reserve roles, is poised to fill the shoes of graduating RB Kyle Lee, whom Stephen's describes as his "mentor".
"Cole has always been quick and somewhat elusive, but it was raw early on,' Lakeside Head Coach Casey Selfridge tells NEI. "We think we have something pretty special in him, though. He has from Day 1 approached this like he is fighting for a backup job and has done everything he possibly can to get better. He looked up to Kyle a lot, and puts pressure himself to fill those shoes."
Stephens isn't the same type of player as Lee was, they bring a different set of skills to the table. Because of that, the Lions' offense will evolve into a system better suited for Cole's dynamic playing style.
"We are gonna move him around a bit – line him up in the back field, at receiver – sort of a Percy Harvin-esque role," Selfridge said. "It can create a lot of favorable match-ups for us if he can be what we think he is."
Stephens has been hard at work this offseason to try and meet those expectations his coaches have for him. He has been participating in track and field, and recently ran a 11.74 in the 100 meter dash. He is also a leader within the football program as well as Lakeside's campus community.
Lakeside's football team has an offseason participation program called their "Pride Points System", which awards points for anything from playing or attending a spring sport, to time spend in the weight room, to reading "football literature". Selfridge says Stephens is "far and away" the team leader in total points.
To Cole, he doesn't know any other way to approach things. "I've always been told I was too small, so I want to earn the right to be looked at as a football player and I do that by leading by example. Playing this game is a privilege."
Stephens says he has ambitions of possibly being a coach some day. In fact after reading some football books for the Pride Points system, Stephens handed in "college level essays' about what he read, Coach Selfridge tells us.
"I like to think something I bring to the table is my knowledge of the game," Stephens says. "I study football like I study anything else. I like the rigorous academic environment at Lakeside, it's what I am used to."
As hard as Stephens has been working this offseason to see personal success on the field, it isn't what has him the most excited. "Coach Selfridge has really started to build something special here. Our numbers are getting bigger and I am looking forward to the growth of the program, and working with the younger players."
Like I said, Cole Stephens isn't your typical football player.