Highlight Videos:
Odessa Mendoza , Darius Riddley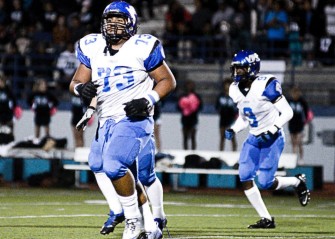 Two of the state's better D lineman flying somewhat under the radar, are Odessa Mendoza (6-0 300 Jr. DT) and Darius Riddley (6-0 250 Jr. DE) out of Curtis HS.
Neither athlete has prototypical size for a lineman, but their abilities speak for themselves. Both kids earned 1st team all league honors with Mendoza grabbing the SPSL Defensive Lineman of the Year award.
Referencing next season Riddley says, "The goal for next years Curtis team is simple…success. We do not plan on losing any games, because we will execute on offense and fly around and hit on defense".
The Vikings have been a traditional power within the state, going (7-3) last season before losing to Bothell in the first round of the state playoffs. From 2008-2010 Curtis went (32-4) and cemented themselves as one of the better programs in Washington.
Mendoza was an absolute beast and made believers out of anyone in his way. Over the first 7 games of the season the Vikings only allowed 48 points as a team, giving up less then seven points a game. His strength inside and ability to maneuver were crucial as it freed up space for other talented kids on the defense.
Odessa says, "We want to win next year plain and simple, that is all that matters". Mendoza and Riddley came out to our elite event in Seattle earlier in the winter going against the other top talent from around the region.
Riddley did very well for himself in 2012, coming off the edge hard and using his speed to his advantage. Darius added, "We have the talent on the team to win every game .. the only team that can beat Curtis is Curtis , and we are determined to be league and state champions next year".
Look for both standout athletes to compliment two other Washington talents in Carter McKay and Calvin McLain. The Vikings run a class program, and we look forward to seeing what the big boys up front can help them accomplish in 2013.