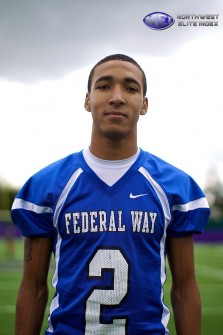 Federal Way (Wash.) High School DB/QB Keenan Curran's recruitment continues to build steam. After netting offers from Idaho and San Jose State last month, Curran picked up another FBS offer late Thursday from Army.
The offer from Army is one that Curran is extremely excited about, and proud of.
"It's an honor, I was at a loss for words because its such a great opportunity to have the chance to go to West Point and also serve my country," Curran told NEI via text. "I think the chemistry that I have with Coach Shields (Army OC) is phenomenal, we just seemed to click right away."
The 6-foot-2, 185-pound Curran is Washington's No. 2 ranked DB for the class of 2014.
"I think the thing about Army that caught my attention the most was that they offered me because of what they saw in me, not necessarily my talent on the field, but my character," Curran added. "I just think that speaks volumes about the type of program they run out at West Point."
Curran went on to add that this offer was one that he is "seriously" considering.