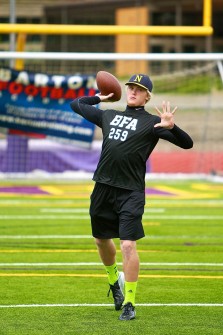 This isn't how QB Kilton Anderson had envisioned things.
After leading Naples (Fla.) High School deep into the state playoffs his sophomore and junior seasons, and being named 1st Team All-State in Florida's largest division, Anderson was determined to bring a state championship home to Naples in his senior year. It would be a storybook ending to his high school career. But then life threw him a curveball.
Several weeks ago the 6-foot-3, 200-pound Anderson – who accounted for 45 touchdowns during his junior season, and runs a 4.5 40 yard dash – found out that his father's job would be possibly requiring him to relocate, and that Kilton would be forced to play his senior year elsewhere. It wouldn't be the first time the family has had to move because of Eric Anderson's job – it would be the 7th to be exact, but it certainly wasn't the news or the timing they would have hoped for.
The one silver-lining was that the elder Anderson would be given the option to transfer to a handful of different cities his company had offices in, and one of those cities was Seattle. So the Andersons planned a trip to the Seattle-area to check out the lay of the land as a family. Wherever they moved, it was going to be a family decision, and one that would be a good fit for both father and son.
The Andersons timed their trip to check out neighborhoods and schools so that Kilton could get the opportunity to compete at BFA's Issaquah combine while they were in town, as well as train with renowned QB coach Taylor Barton. If they were going to have to make this move, it would be important to the family that Kilton, who already has an FBS offer from South Alabama, be able continue his development as a QB, and make the transition as seamless as possible for him.
Earlier this week Eric Anderson was informed that the transfer was indeed imminent, and so the family made the decision to head to the Pacific Northwest.
"Seattle is one of four markets that we potentially could move to. Upon visiting Seattle, we thought that the city, educational resources and athletic opportunities made the most sense for Kilton and us as a family," Eric told NEI.
Kilton, who is receiving serious interest from several BCS schools, informed his coach Bill Kramer and Naples HS teammates on Tuesday.
"Leaving Naples is like losing a part of myself. I am going to miss my friends, my coaches, the city of Naples, and the fans. Although I am physically removed, Naples High will remain in my heart forever," Kilton said. ""Life is about change, and I am not unfamiliar with, or afraid of change. I know it is not an optimal situation to change schools prior to your senior year; there are opportunities ahead of me as well as challenges. I have no other option but to make the best of my situation."
Kilton, and his parents, felt his growth as QB was one of their priorities, especially due to the timing of the move and his recruitment as a Division 1 prospect. For Kilton, that was another check mark in Seattle's favor.
"The final decision in my eyes was made after I worked with Coach Taylor Barton on our visit. Coach Barton in just one session helped refine me as a thrower, and I am confident as I continue to work with him once we move, he can develop my abilities further," Kilton said. "It was a solid fit."
While in Seattle the Andersons visited several schools and neighborhoods and after discussing things as a family late Wednesday evening they came to the decision that Kilton would attend Skyline HS in Sammamish.
"Skyline has a standard of academic and athletic success that I admire. It has a reputation for producing outstanding athletes, and in particular, elite quarterbacks.," Anderson said. "I don't plan on being handed anything, I am going to compete for that starting position and strive to maintain the standards set by, and be mentioned alongside, two legends: Jake Heaps and Max Browne."
"Coach Mat Taylor is a proven coach, a great offensive mind, and he is a competitor. I had the opportunity to meet some of the Skyline players while at the combine I attended and thought I really fit in with those guys," Kilton added.
The Andersons will begin the process of moving this month, and the goal is to get the family and Kilton settled in time for spring practice and to finish the academic year at Skyline.
In spite of the move, Kilton says the goal of a championship in his senior season still exists. "I may not get to chase that State Title with my brothers in Naples, but I am excited for a chance to chase it with my new brothers at Skyline."