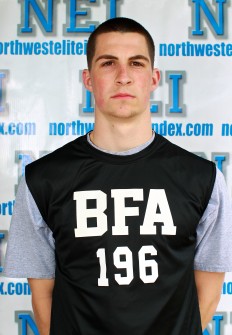 Just over a week ago he had a breakout performance at our Salem camp/combine, all the more solidifying himself as one of the most dangerous athletes in the 2015 class. These next two years could be huge for one of the region's top QB's Cade Smith and Hlad.
Smith has had a Wyoming offer since his freshman season, where his brother is the starting QB and a former freshman All American. The CVC record books could be changing over the next two year's, as both of these kids represent one of the top QB/WR tandems in the Pacific NW.
Keegen says, "We want to go undefeated in league and repeat as CVC champs". He continued, "Personally I want to be a positive role model for the younger players and be a complete overall athlete on the field".
Hlad is a talented multi sport kid being the 6th man on a 23-3 varsity hoops team, that won the conference title. He will be one of the better basketball players and track athletes in Oregon for his class.
The Titans of West Salem are notoriously the best team in the Valley, as 2012 NEI Coach of the Year Shawn Stanley is one of the most respected high school head coaches anywhere in the country.
More then anything Keegen is just a good kid. He has helped out with family reading night at Brush College Elementary, and participated in the law enforcement for youth annual Christmas shop program.
We are excited to see Hlad down in Medford at our Barton camp/combine this upcoming weekend, competing with another one of the state's top sophomore WR's in Jared Evans (6-4 200 So.). As of right now they are the top two ranked wide outs in the 2015 class.
Congrats to Keegen and his West Salem teammates on all of their success. He is a class kid and an overall outstanding athlete.