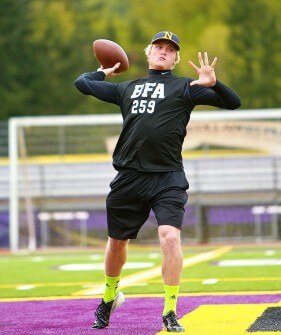 Overall MVP
Kilton Anderson 6-3 200 Jr. Naples, FL.
The 6A All-State QB out of Naples, FL made the trip with his family, to come train with Taylor Barton and attend our camp/combine, and didn't disappoint.
Anderson was lights out for most of the weekend and currently has a South Alabama offer with a bunch of other D1's on the verge. He will be a double digit D1 offer QB before its over.
Offensive MVPs
Drew Sample 6-5 235 Jr. TE Newport
Trey Robinson 5-9 170 Jr. Jackson
Sample just continues to get better, currently holding offers from Montana and Idaho. His ability to maneuver for a big kid is outstanding as his upside is through the roof with that 6-5 very athletic frame.
Trey is ranked one of our #8 athlete for the 2014 class, but is still somewhat under the radar. He ran the 2nd fastest 40 time (4.43), out of the 100+ athletes in attendance and scored 22 TDs last season.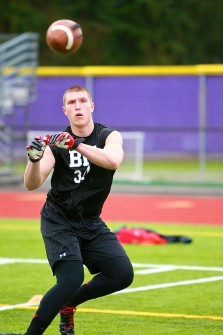 Defensive MVPs
Nate Lewis 6-1 225 Jr. LB Arlington
Conner Baumann 6-2 225 Jr. LB Newport
Lewis is a kid that came out and performed very well, showing necessary speed from his backer position and looking the part. He is the #6 ranked LB in the 2014 recruiting class.
Baumann's stock is rising as quickly as anybody, after testing very well and showing off unique skills for a big back. Conner is getting accustomed to the defensive side of the ball nicely, after going off last season offensively with 14 Tds and 1,338 rushing yards.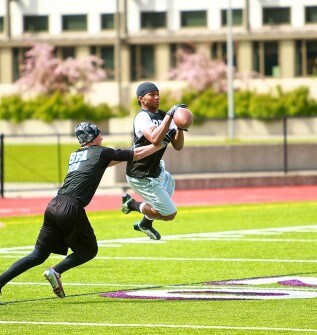 Linemen
Thomas Toki 5-11.5 295 So. DL Juanita
Toki is currently ranked our #1 D lineman state wide for the 2015 class and left no doubt Sunday. He will end up being a double digit offer kid before all is said and done, and is an equally better person off the field.
Thomas' freshman cousin and teammate Paul Finau was recently offered by BYU and Toki has been even more dominant. The Cougars among others should come in soon. Look for Shaun Tarantola's group at Juanita to be one of the state's best.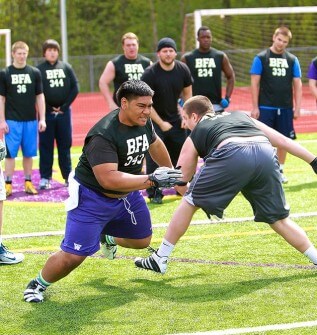 Underclassmen Overall MVP
Ross Bowers 6-2 185 So. QB Bothell
Our Co #1 QB for the 2015 class in the state of WA had a very good day, throwing some really nice balls. I am a big backer of Ross and feel that the time and game experience he got last year, playing one of the toughest schedules in the state, will be huge for him moving forward.
He will need to have a big off season and get to the right college camps, but some of his skills are god given and can't be taught. Look for Bowers to have a big junior year.
Underclassmen Offensive MVP
Keynan Foster 5-9 165 So. Slot Jackson
Foster is electric and one of the most exciting sophomores in the Pacific NW. His (4.47) 40 yard dash was the 3rd fastest time out of the 100+ kids in attendance. Keynan was a 1st team all league slot last season going for double digit Tds. He currently projects as our #2 slot in the state of WA , behind Chico McClatcher.
Underclassmen Defensive MVP
Joel Dublanko 6-3 215 Fr. LB Aberdeen
Currently the #2 ranked freshman LB in America and a kid that has dominated thus far on a national level. He projects as an OLB/DE type once he's done growing, and could go down as one of the most special athletes to ever come out of the northwest.
Dublanko was offered by Montana going into last season, and has a bunch of high level D1's (Including SEC's) that are close going on him.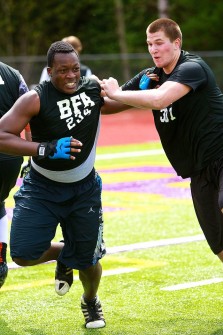 Underclassmen Linemen MVP
Calvin Throckmorton 6-6 250 So. OL Newport
Alex Neale 6-3 255 So. C Eastside Catholic
Throckmorton has started since his freshman season as a D lineman but projects on the offensive side of the ball. His 6-6 frame and overall athleticism make him the ideal (OT) at the next level. He is still somewhat raw offensively, but his upside is off the charts.
Neale is ranked our top sophomore center in WA, and had as good a day as anybody at the camp. His ability to maneuver inside and maintain blocks make him one of the most intriguing prospects in the region.
Positional MVP's
QBs
Eric Prater 6-2 200 – Lake Havasu, AZ
Blake Maimone 6-7 225 Oaks Christian High School, CA
Nolan Henry 6-0 190 So. Union
Derrick Becker 6-0 175 Jr. Capital
Casey Brink 6-2 185 So. Bainbridge
RBs
Collin Cossette 6-1 220 Jr. Kennedy
Teague James 5-10 180 Jr. Graham- Kapowsin
Elijah Nichols 6-1 195 So. Skyline
WR/TEs
Mike Padden 6-3 195 Jr. Lakeside
Drew Griffin 6-1 205 Jr. Bellarmine Prep
Erik Rottsolk 6-6 225 So. Lakeside
Sam Mix 6-1 175 Jr. Skyline
Reece Carlson 6-4 220 Jr. Gig Harbor
Slot/ATHs
Phillip Moore 6-1 165 Jr. Eastmont
Braydon Shields 6-0 165 Jr. West Valley
Ethan Mcelderry 5-9 160 So. Bonney Lake
OL
Robert Luke 6-4 315 Jr. Charles Wright Academy
Shay Dingfelder 6-1 280 Jr. Issaquah
Drew Springfield 6-3 275 Jr. Eastside Catholic
DL
Wunmi Oyetuga 6-3 255 Jr. Charles Wright Academy
Josh Wright 6-1 230 Jr. Skyline
Nate Ellis 6-3 245 Jr. Gig Harbor
LB
Mac Maclachlan 6-1 215 Jr. Edmonds-Woodway
Bennett Long 6-2 245 Jr. Newport
Andrew Monlux 6-4 230 So. Kingston
Braiden Beckman 6-1 215 So. Kentridge
DB
Dashay Ware 5-10 165 So. Todd Beamer
Curtis Russell 5-11 165 Jr. Graham-Kapowsin
Jordan Sumerlin 5-9 170 So. Graham- Kapowsin
Freshmen MVPs
Jake Taylor QB Peninsula
Zach Smith DB/ATH Capital
Brady Kelly QB Curtis
Devyn Rainbow QB Bothell