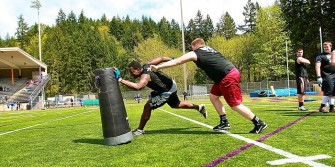 Don't let the size of the school fool you. 2012 Nisqually League Champion, Tacoma (WA) Charles Wright Academy, has some big players who can play some big football. Earlier this month our Ryland Spencer told you about massive two-way lineman, Robert Luke . But the Tarriers have another two-way player in the trenches who made his presence known at last Sunday's combine in Issaquah – Wunmi Oyetuga.
The 6-foot-3, 252-pound Oyetuga – who also boasts an 82.75″ wingspan – was a first-team All-Nisqually League performer on both sides of the ball in 2012. According to CWA's team website he was the Tarrier's third-leading tackler from his defensive end spot last season.
Off the field, the mild-mannered Oyetuga is a self-described "nice guy", but on the field, he displays a nasty edge that coaches just love to see from their linemen.
The perception many wrongly have of small-school football, and the players who play it, is something that motivates Oyetuga. "In the last few seasons, I've been over-looked as 'just another player'," Oyetuga told NEI following Sunday's combine. "I am focused, determined, and ready to do whatever it takes to win."
Sunday, he displayed just that. Oyetuga went up against some of the best offensive lineman in the state of Washington in one-on-one drills and came away from many of those match-ups victorious. He also had a solid day taking offensive reps, but it seems that the defensive line will be where his bread is buttered.
Oyetuga takes great pride in the fact he has been a part of the football program at Charles Wright since the 6th grade. In an era where athletes often feel they need to go to a big high school for "more exposure", Wunmi – as are many of the players at CWA – is determined to be an outlier and prove that doesn't need to be the case.
Oyetuga knows he has the talent and ability to play somewhere at the next level. For now, he is on a quest to prove it.
"I know I am well above the standards people have put on me, and I am determined to make sure that people remember me as a forced to be reckoned with."