Overall MVP – Keegen Hlad 6-4 175 So. West Salem
Offensive MVP – Cade Smith 6-1 185 So. West Salem, Troy Fowler 5-11 165 So. North Medford
Defensive MVP – Seth Arena 5-9 155 Jr. Eagle Point
Lineman – Hunter Hermansen 6-2 215 Jr. North Medford, Austin Holmes 6-4 245 Jr. Eagle Point
Breakout Performer – Tristen Holmes 6-1 170 So. North Medford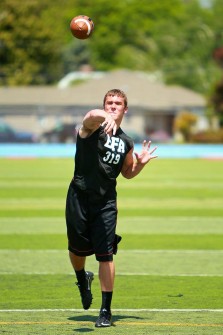 QB
Multiple QB's had big days down in Medford as 2 of the state's top sophomores Cade Smith (So. West Salem) and Troy Fowler (So. North Medford) shared offensive MVP honors. South Medford's Craig Contreras was right there, and is one of the fastest rising athletes in the state for the 2015 class.
Smith already holds a Wyoming offer and showed up with elite sophomore WR Keegen Hlad. Cade continues to look more and more polished and could potentially add a few more offers over the spring and summer. Fowler returns as the starter for the Black Tornado and looked as good as we have ever seen him. He is everything you want in a leader, and one of main reasons North Medford is back on track.
Contreras (So. South Medford) left the Bay area at 5AM to get back up for the event and didn't disappoint. He is moving up our rankings board as fast as any athlete state wide for the 2015 class and the kid can sling it. Craig stepped in as the Panthers sophomore starter and did a very good job.
Washington top ranked junior Derrick Becker of Olympia (Jr. Capitol) continues to do his thing as one of the state's top 10 ranked Jr's. This was his 4th week on the tour. Jacob Moore (So.) is another kid that we really like out of 3A Cascade Christian. He is a big talented sophomore athlete with a huge upside.
8th grade standout Chase Warren of (Crater) is a name you will hear often in the coming years. He is a super talented leader and will be working with one of the country's top QB coaches in Taylor Barton.
Dante' Reid was (Tualatin's) freshman QB this last season and trained with TB during the summer. The kid has size and outstanding overall athleticism and should be the future quarterback in the T-Wolves system.
Both Ra'eed Sowell (Eagle Point) and Myka Thomas (Cascade Christian) did well for themselves and rounded out a solid positional group for the day.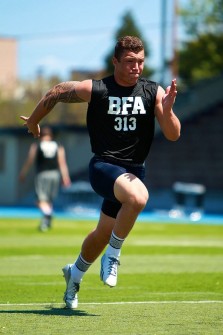 RB
A talented group of RB's made their presence known on Sunday as each athlete will be the featured player for their school. North Medford's Nick Janakes (So. North Medford) is one of the state's top two way threats for the 2015 class and had an MVP type performance. He was an all league athlete on both sides of the ball as a sophomore.
Boomer Fleming of (Jr. Ridgeview) is ranked as one of our top 10 backs for the 2014 class, after going for nearly 1400 yards and 15 Tds a year ago. He is a two time state wrestling champ and will be an Intermountain Conference Player of the year favorite in 2013.
Chandler Dodd from (Jr. Brookings Harbor) was very impressive after earning 2nd team all league honors a year ago. He will be the featured player in that system.
One of the best freshman backs in Oregon, Cavin Gillespie( Fr. Crater), will be a kid that we will hear a lot about in the near future. He went for over 2400 yards and countless Td's a year ago at the frosh level, and will be the go to go guy moving forward for the Comets .
WR
Along with the QB's this was another very strong and deep group. The state's top 2 ranked sophomore WR's, Keegen Hlad (So. West Salem) and Jared Evans (So. North Medford) put their skills on display, as Hlad was the overall camp MVP and tested very well. He is long and rangy and runs crisp routes, having a phenomenal Sunday.
Evans is very similar and just very athletic. He traveled with us to Las Vegas as part of NEI-South (Team Oregon) for the regional 7 on 7 tournament and could have a monster junior year. Both athletes are outstanding kids and provide a foundation for their schools to build around.
Carlos Flores (Jr. Eagle Point) had an honorable mention all league season at WR, having one of the better days of anyone at the camp. He projects as one of the better wide outs in the Midwestern Conference.
The (breakout) athlete of the day was Tristen Holmes (So. North Medford) who will start next season on both sides of the ball for the Black Tornado. He is currently a 15 year old sophomore, with size 14 shoes, D1 genes, and an upside that won't quit. He will be a kid that we see ranked as one of the state's top WR/DB's in Oregon for the 2015 class. Teammate Josh Hansen (So. WR) will be another kid that been very active at our elite events, and should contribute on both sides of the ball for North.
Sophomore Dylan Morgan (So. Crater) is another kid with an extremely high ceiling, as he played varsity ball as a sophomore and is the brother of D1 Arizona commit RJ Morgan. Dylan will be one of the better junior's in the SWC and someone we will follow closely as he still has a growth spurt ahead of him.
Reilly Williams (Jr. S.Medford) is one of the state's better kickers and the younger brother of 3a Player of the Year Brandon Williams. He is an underrated offensive threat and could do some things for South this season.
Austin Powell (So. Cottage Grove) will be one of the younger athletes returning on a Cottage Grove team that is a legit 4a state title contender. Powell ran nice routes and will be the next guy in line behind Oscar Rauda and Brad Bonds. Cooper Clark (So. Cascade Christian) will be one of Jacob Moore's main guys for the 3a power.
TE
South Medford's returning starter at TE, Jacob Ridgeway, attended his 2nd camp/combine in four weeks and just continues to impress. Ridgeway has what you can't teach in heart and will be a reliable target for Contreras again next season.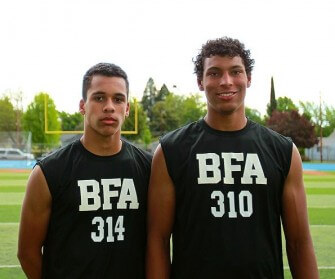 Lineman
Easily one of the most impressive groups of the day as Hunter Hermansen (Jr. North Medford) had a breakout performance playing with his hair on fire. Hermansen was all over the place and will play a huge role for North next season, as they lack much depth at the position.
Austin Holmes (Jr. Eagle Point) is ranked as one of our top lineman state wide on both sides of the ball and is an even better kid. His upside is huge at 6-4 and long, as this will be a very telling senior season ahead. Brother Tyrone is a potential D1aa All American at Montana, and cousin Tristen is a standout two way threat at North Medford. It is one of the most well rounded families you are ever going to find as all three of the athletes are 4.0 type students.
Roseburg's Shon Atterbury (2015) has been up at our elite events in Portland and is one better younger lineman in Oregon. He projects as a 6-2 center, but can also play the guard spot. He will be the future of the Indians line.
Both Jakob Ellis (So. South Medford) and Mitchell Narlock (Jr. South Medford) had outstanding days. Ellis has improved a great deal and has the size to do some big things moving forward. Narlock was extremely quick and impressive inside and could be one of the better lineman in Southern Oregon this season.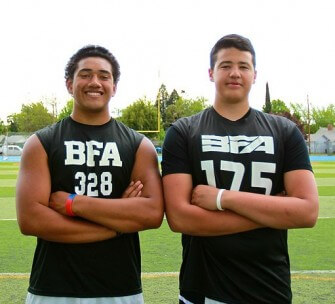 LB
Two of the state's younger and more talented backers headlined a small but impressive group. Edmund Polataivao (So. North Medford) showed up and did very well after an all league season a year ago. He played some safety and linebacker and should be a kid that can do both.
Makai Mauwai (Fr. South Medford) is still raw but projects as one of the top freshman linebackers in the entire region, after playing varsity football this past season. Its rare to see a 6-2 225 9th grade backer that can move, so we expect big things Makai moving forward. He is the cousin of talented sophomore QB Craig Contreras.
Michael Bailey (Crater) and Seth McKenzie ( Jr. Eagle Point) both did well. Bailey is an impressive young LB that could be part of a special Crater youth movement, and Mckenzie will need to provide veteran leadership to an Eagle Point team that could be good in 2013.
DB
A pair of Eagle Point kids did well at DB over the weekend , with Seth Arena (2014) earning defensive MVP honors for the camp. Arena was a 2nd team all league DB a year ago and will be the featured RB for the Eagles once again this season. Seth is very talented, but will also need to gain some weight (currently 140) to survive the season playing on both sides of the ball.
Peyton Dole (Jr. Eagle Point) is ranked as one of our top ATH's state wide and has a very bright future at 6-3 215. He will be a three year all league starter, that's been working as hard as anybody after an injury last season.
Michael Jones (Jr. North Medford) was one of the surprises of the day, along with fellow junior teammate Hunter Hermansen doing a great job at safety. He will be a senior leader on this year's Black Tornado group. Gage Graves (Fr. South Medford) is one of the better young DB's around the region.
Both Donald Everett (Jr. Eagle Point) and Devin Shook (Crater) had very good day's themselves, and should be considered two of the up and coming athletes in Southern Oregon.