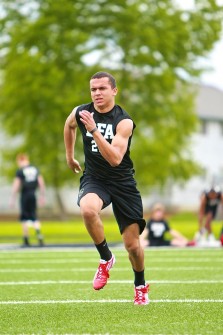 The offers continue to come in and its great to see our NW kids reaping the rewards. Oregon's top ranked Jr WR Jordan Morgan (6-2 200) of Southridge landed offer #4 from the Air Force Academy, as his stock continues to rise.
Morgan will be a conference player of the year favorite to start the 2013 season, as Southridge will be a legit state title contender. Speaking on the offer Jordan says, " They stopped by the school and offered, telling me about their program while knowing that I was interested in maybe serving one day". He continued," I still don't know what I want to do but it's definitely a good option to have".
Jordan holds offers from Arizona, San Jose State, Portland State, and now the high profile military institution. He recently ran the 2nd fastest 40 yard dash among 130+ athletes at our Salem regional camp/combine, and is a Oregon 6A state favorite in the long jump.
We wish Morgan continued success on and off the field, as he has been a lifelong member of the Barton Football Academy and someone that we will forever be big backers of.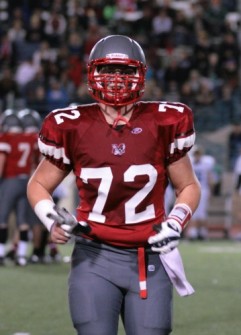 Landing his first offer was talented D lineman Jevin Pahinui (6-4 260 Jr. DE) of Mountlake Terrace. The teammate of all- everything athlete Devante Downs joined in on the early offers with Wyoming coming in.
Pahinui is a big, fast and very physical athlete that is climbing the rankings board quickly. You can expect the standout D end to be someone that jumps up the ranks as the off season progresses.
Referencing the offer Jevin says, "During our weight room session coach came down and watched me work out, and talked to a few other guys before pulling me aside where he asked me to be a Cowboy". He continued, "It was a very exciting moment for me as Im looking forward to seeing what my future holds".
Pahinui is a talented overall athlete that we will look forward to seeing on June 30th at our showcase event, where 30-40+ colleges will be in attendance. He could very well pick up a few additional offers there, as we think the sky's the limit for the kid out of Washington.