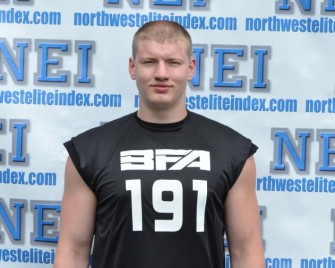 As one of the top prospects in the state of Washington this year, Fife (Wa.) OL/DL Kaleb McGary has had a busy spring, but he hasn't let things go to his head. He's still the laid back kid that those close to him have known all along. NEI spoke to the highly regarded prospect recently and got his thoughts on the recruiting process and his nomination as an Army All-American…
"Things have been going good. I've been busy with school and working out a lot," McGary said over the weekend. "It's been pretty cool getting the offers from all of the schools that have been showing me interest and dropping by our school.
"My most recent offer was Wyoming and then I have all of the other schools that (the media) know about."
Those offers include Oregon, Washington, Arizona State, California, Nebraska, Oregon State, Utah, Washington State and Wisconsin and he's getting interest from schools like Florida State, Mississippi, Tennessee, Vanderbilt and Boise State as well.
"I haven't really named any favorites and I'm just enjoying getting offers and talking to people," McGary said. "They all want me to play different things. Some like me on the offensive line; some like me at tight end; some like me at defensive end. Honestly, if you were to pin me down, I prefer to play tight end or defensive end, but who am I to tell the coaches I end up playing for where to play me. Heck, they're paying for me to go to school, so I'll go and play wherever they want me to play."
That being said, Washington has told McGary they like him on defense as well as on offense.
"They definitely want me on defense, but coach (Steve) Sarkisian said that he thinks I couple play some tight end in their system too," McGary said. "I just like to hit people. That's sorta my thing. I can do it playing any position, so, like I said, it really doesn't matter to me."
McGary's camp schedule has been filling up over the past few weeks with plans to take in camps at Oregon State and Oregon as well as Nike's The Opening in Beaverton, Oregon.
He also received some good news recently when he was notified he is being considered for the Army All-American game.
"I haven't been invited to play yet, but at least I'm being considered," McGary said. "I guess they make a huge list of the guys they like and then narrow it down. I've made it to that next phase, so it's pretty exciting."
No matter what happens though, McGary said he plans to stay humble, work hard and get it done, not only on the football field, but also in the classroom.
"You always need to work to get better and that's what I've been doing," McGary said. "I'm trying to get bigger, stronger and faster and my parents always keep me focused on school too. It's busy, but I wouldn't have in any other way."