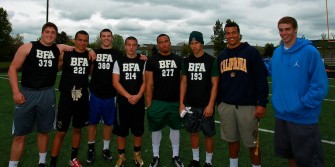 Our Barton Regional Camp/Combine in Salem a few weeks back, had some of the top athletes on the west coast and beyond in attendance. These events have all allowed our NW athletes to get out and compete against one another, with the best of the best going head to head.
You will see a majority of Oregon and SW Washington's top athletes listed below. We can't say enough good things about the 2014 class and all of the talent that resides within.
Henry Mondeaux TE/OLB Jesuit
http://www.youtube.com/watch?v=VjPEBIFgj0o
Offers: Arizona State, Boise State, Nevada, Oregon State, Oregon, Washington, CAL
When all is said and done I think Henry will spend 5-10 years in the NFL, and be one of the best players ever to come out of the State of Oregon… He is that good.
He has extremely unique body control for a kid his size and can play at the highest level on either side of the ball.
Joey Alfieri LB Jesuit
http://www.youtube.com/watch?v=GsNjjqvDsLE
Offers : Wisconsin, Oregon State, Washington, Stanford, CAL, Washington State, Arizona, Arizona State, Boston College, Yale, Harvard
One of the best linebackers in America and a kid that should be nominated to multiple All American games. Will be one of the most high profile athletes to ever come out of Oregon and is a future NFL talent.
The leading candidate for Oregon Defensive Player of the Year honors from what will be a #1 ranked Jesuit Crusader squad.
AJ Hotchkins FB/LB Tigard
http://www.youtube.com/watch?v=hu8UUrqLW6E
Offers: Idaho, Portland State
One of the hardest hitters in the country. I would consider him the best full back on the west coast. Has ridiculous strength and was a 1st team all league FB/D End this past season. His HUDL film is lights out, and one of the most entertaining pieces of video we have ever come across.
Jordan Morgan WR Southridge
http://www.youtube.com/watch?v=35uNT1iFdtw
Offers: Arizona, San Jose State, Air Force, Portland State
Our #1 ranked WR in the Pacific Northwest. Went off as a junior, garnering 1st team all league honors and catching 15 Tds.. Will be a Metro League Player of the Year candidate for a Southridge team that is a legit state title contender.
All state track athlete that will be one of the favorites to win the long jump this season.
Reilly Hennessey QB Camas, WA
http://www.youtube.com/embed/ZHteRsDcjUM
Offers: Eastern Washington
A kid that is flying up the charts at the position and will be ranked our Co #1 QB for the 2014 class when the new rankings are released.
Camas will be the overwhelming favorite to win the 2013 class 4a state title in Washington, and should be considered one of the top 50 teams nationally… 1st team all league junior season
Sam Bodine LB Canby
http://www.youtube.com/watch?v=TY5ppwzdfJs
Maybe the most under recruited kid in the region. Taylor Barton and myself both feel he will be an all conference big time D1 talent, that will play professional football.
We consider him this year's Johnny Ragin and a kid that will have double digit offers before signing day. Absolutely incredible that no one has come in on him yet… 1st team all league LB, NEI's #2 ranked backer behind Alfieri.
Ryan Nall LB Central Catholic
http://www.youtube.com/watch?v=Z5H2hRmZdCc
Offers: Portland State, Northern Colorado
Another kid that is an absolute freak of an athlete, and will have double digit D1 offers before all is said and done.. Will have half the Pac 12 before all is said and done.
Nall is incredibly fast and has legit size. Had one of the most impressive camp/ combines of any athlete in attendance, and is ranked our Co #2 LB and #3 RB overall in Oregon.
Josh Brown TE/DE Sunset
http://www.youtube.com/embed/XNCtSvQXc3E
Offers: Northern Colorado
Brown is one of the fastest rising recruits in the region, and another kid that could very easily have his choice of big D1 schools before long. He was a 1st team all league D End and 3rd Team TE as a junior.
Josh has put in a lot of work over the off season and now looks like one of the top TE's in the west.
Nick Underwood LB Lake Oswego
http://www.youtube.com/watch?v=hYOcba_Y7ao
1st team all league LB as a junior, starting in multiple state championship games… Has had the top 40 yard dash time for the last two years at our Salem Camp/Combine among 130+ athletes. Outstanding kid that will play D1 football.
Manu Rasmussen DB Tigard
http://www.youtube.com/embed/AkRuBPCBa5M
The favorite for Offensive and Defensive Pacific Conference Player of the Year honors.. Manu was a 2nd team all league DB last year and could very easily go for 2000 yards and 30+ Tds offensively this season.