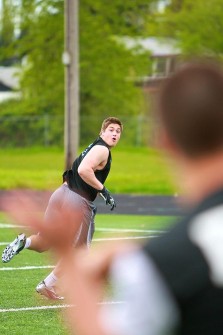 It was a big day for nationally ranked recruit Henry Mondeaux (6-5 245 Jr. TE/OLB) of Jesuit, who hauled in 3 offers in a single afternoon.
The talented two way threat now has seven offers in all as Oregon, Oregon State, Washington and CAL have all made their intentions known. We have gotten to know the talented big man well over the last few seasons, and can't say enough good things about him as kid and as an athlete.
Referencing the offers Mondeaux said, "It was a big day… Nevada came by and offered me but we didn't get a chance to talk much". He continued, "Then Arizona State and Boise State both offered me as a tight end… I'm excited to learn more about them".
His unique body control only helps add to his ridiculous upside, as you can see by his most recent Barton Camp/ Combine video highlights attached. Henry will lead a projected #1 ranked Jesuit squad into 2013, and could go down as one of the best players to ever come out of Oregon.
He's the first guy to the gym and the last guy to leave on a typical day, all the more speaking to his potential. We wish Mondeaux continued success, and for see a host of elite level programs offering signing day.