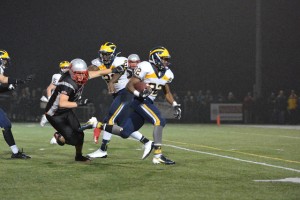 Bellevue (Wa.) ATH Budda Baker, one of the top athletes in the entire country, received good news yesterday when USC became the final Pac 12 school to offer him.
As a two-way player who could play both ways at the next level, he has maintained that he prefers defense to offense, if given the choice.
"I love defense," Baker said without hesitation. "I'm the last line of defense and I don't care how big you are or how small you are, I'm coming for you and that's my mindset anytime. Anyone who has the ball, I'm hitting him. I prefer to hit guys instead of getting hit."
Baker is humble and he's the captain of a program that has won five-straight 3A championships. Now that USC has extended him an offer, he has full rides from every Pac 12 program as well as schools from across the country, including Ohio State and Notre Dame among others.
"It's overwhelming, but I know I just have to relax (about the process)," Baker said in a local radio interview. "One thing I learned is to not fall in love with the coaches because any given day a coach can be fired, so you have to find a place you know you can live for four years and have a great support system."
UCLA was the first school to offer Baker, way back in 2011, but Washington offered on the same day and he said it's been humbling to see offers and letters from top 25 programs from across the country.
"When I got that letter from Alabama, that was pretty crazy and when I knew it was getting serious because you don't see them coming out here to recruit guys very much," Baker said.
As far as which schools have stood out for him, Baker isn't into naming favorites, but he said three have sort of started to separate themselves.
"Right now Washington, of course, UCLA and Oregon have all been by and they are all recruiting me pretty hard, but Notre Dame is coming in soon to see me and that'll be good," Baker noted. "All three of those schools (UW, Oregon and UCLA) will be in it (until the end)."
Baker has been invited to the Army All-American Game and plans to play in that game and said he hopes to make his decision after his senior season.
"I don't want to be committed and taking visits. I want to have an open heart (and mind) about it," Baker said. "I don't want to be a guy who commits and then takes visits, so when I make my decision, that's it. I will be done. That's why I will wait to make my decision."