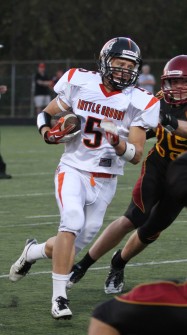 Battle Ground (Wash.) head coach Larry Peck knew when he took over the reins of the Tiger football program that he wasn't taking on a very easy task – one that many coaches might even shy away from. Now entering his fourth season as head coach, brick by brick, Peck has transformed the culture of Battle Ground football.
The Tigers went 5-4 in 2012, their first winning season under Peck, and their first winning season in a decade. Heading in to year four, Peck's team will be made up entirely of players who have come up through the program all under his watch – four classes of athletes, all learning the Tiger way.
Peck is hoping last season's success carries over to more of the same in 2013. "The kids are hungry for another successful season as we head in to spring ball," Peck tells NEI. "Hopefully the taste they got last year has stayed with them and our expectations are to increase our win total and be in contention for a play-off spot at the end of the season."
As Battle Ground moves forward, it will do so without all-everything RB/LB Kevin Haynes, who graduated and will continue his career at Central Washington on a football scholarship. With Haynes' departure the transformation of Tiger Football will continue, this time with the evolution of the offense. One way the Tigers plan to overcome the graduation of Haynes is to transition from a run-heavy attack to a more balanced offensive scheme.
"It will be interesting to see new leaders step up to create a new identity as we move forward. We should be faster across the board at each position but we will have to focus on some different things offensively," Peck says. "We have two solid QBs that are going to compete for the starting position in Jr. Nic Manuel and Sr. Colston Vukanovich who is transferring back in to the program for his senior season after moving to and playing in Georgia last season."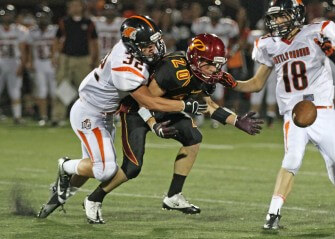 Peck said both potential QB's are great athletes and whichever doesn't win the job will be able to contribute at another position.
Several other talented Tigers return in 2013. Other players to watch are WR/DB Hayden Humphrey – who Peck describes as "the most athletic player on the team", RB/LB Justin Smalley, WR/DB Josh Lemar – who has had an outstanding offseason and projects to be a force at safety, WR/DB Colby Calhoon, FB/LB Keala Higgins, TE/DL Winston Matz, and WR/DB Kaiden Grotte make up a core group of seniors who all played significant roles last season.
On the line Jr. Garret Dean, a starter as a sophomore, and Sr. Sheldon Michalios returns to anchor a young offensive line that will need to overcome inexperience in 2013.
Coach Peck is extremely proud of the work his players are putting in. When he first took over at Battle Ground he says getting players to buy-in was a challenge, but season by season that has started to change. "Probably the most significant development here at BG during my 3 years as head coach has been this transformation of positive football culture the players are building through their hard work ethic," Peck says.
"You couldn't get eight kids to do workouts during the summer around here on a regular basis 3 years ago," He says. "Now we get close to 100 kids through the weight room on a daily basis. It has been the single biggest change in creating success. "
Coach Peck and the Tigers know that 2013 will be challenging, especially with traditional powers Camas, Skyview and Union all in their league. "All three programs are usually ranked in the top ten of the state 4A rankings each season, but our goal is to get to the next level as a program. To do that you have to beat somebody that is already there – and that is what we are working towards."
No matter what happens at Battle Ground in 2013, it is refreshing to see a coach and team evolving and being built the right way.