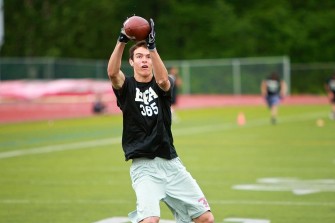 One of the great things about the Barton Football Academy Camp and Combine Tour is getting to work with athletes in areas of the Northwest that nobody else is getting out and seeing. This last weekend we were in Bellingham, WA and came away very impressed with that talent that attended. Often times by doing camps in cities like Bellingham we are able to evaluate players on our radar as well as discover new talent. Lynden's Jalani Phepls and Mount Vernon's Melvin Walser were among the WR's who we were anxious to see – and they didn't disappoint, while several other players left strong impressions as well.
One of the many players who caught our eye on Sunday was Everett (Wash.) Archbishop Murphy two-way standout, Conner Longoria.
The 6-foot-3, 166-pound Longoria started at both WR and CB for the Wildcats during his junior season and was an honorable mention All-League selection at both positions.
As a wideout he averaged 24.14 yards per reception last year, and on defense he had a host of tackles while hauling in 2 INT's – one of which he returned for a TD. Longoria is one of the rare two-way players who might actually be equally dominant at both spots.
Longoria figures to be a key player for Archbishop Murphy this season, along with linemen Kyle Daviscourt and Brogan Murphy, and several other Wildcats.
He says he and his teammates have one clearcut goal this season. "As a program our focus is on winning the conference because we haven't won it for the last 3 years despite going to two state finals and the state quarterfinals,' Longoria tells NEI.
On an individual level, he has his sights set high as well. "Personally I would like to be recognized as one of the top threats in the state and earn All State honors."
Longoria has a big frame, so adding weight shouldn't be a problem. He has deceptive speed and does a great job finding ideal body position on both sides of the ball, a skill he no doubt picked up from the basketball court – Conner was also all-league honorable mention in hoops. He added that he plays baseball and says he carries a 0.00 ERA.
Longoria gets it done in the classroom too, carrying a 3.5 GPA. He has begun hearing from some small colleges about the possibility of playing football at the next level, one of which is NAIA perennial power, Carroll College.