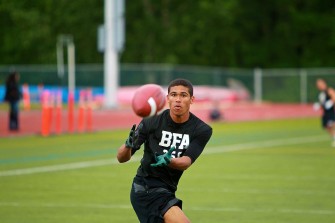 MVPs
OVERALL – Jalani Phelps Jr. WR Lynden
Upperclassmen
OFFENSIVE – Melvin Walser Jr. WR Mount Vernon
DEFENSIVE – Mac McLachlan Jr. LB Edmonds-Woodway
Underclassmen
OFFENSIVE – Taylor Rapp Fr. RB Sehome
DEFENSIVE – Zach Smith Fr. DB Capital
QB
Positional MVP- Jayden Croft (Tumwater) & Ty Marshall (Windsor Secondary; Vancouver, BC.)
It was a good day for QB's as we saw a group of Washington starting quarterbacks take advantage of training with one of the top QB coaches in the land (Taylor Barton). Jayden Croft and Ty Marshall shared positional MVP honors in what was a very good afternoon for both.
Croft led his team to the 2A state championship game last season, before losing to Lynden. Expect the Thunderbirds to be ranked the state's #1 team as Jayden has had a phenomenal off season, testing very well also.
Marshall had an outstanding day and threw about as nice a ball as we have seen all year. He was an all conference QB up in Canada, and is a kid that we think could help some collegiate football teams moving forward.
Michael Cameron (Jr. Marysville Getchell) and Tyler Becker (So. Kamiak) will both look to lead their respective schools in 2013. Cameron has looked better and better training with TB, and Becker continues to improve.
Three younger athletes with size that looked the part were Robert Kvinsland (So. Peninsula), and two freshman standouts in Sterling Somers (Fr. Lynden) and Marcus McGuinn (Fr. Meridian). Kvinsland will be competing with another sophomore, and super talented freshman Jake Taylor for the starting position.
The 6-4 Somers could be a kid we here a lot about in the years to come, playing in one of the most successful systems in the state of Washington. The kid has a huge upside. McGuinn is equally talented and looked very athletic. He comes from a football family and projects as one of the better NW athletes in the coming years.
Three other top young QB's we will hear a lot about will be Devyn Rainbow (Fr. Bothell), Kyle Schemstad (Fr. Ferndale), and Rowan Parmenter (8th- Cedar Park Christian). Rainbow has a ridiculously strong arm and a very bright future, while Parmenter has the maturity of a veteran high school athlete and will come into 2013 as one of the better freshman in the state. Schemstad is another kid that is physically impressive and should do big things over the next few seasons.
Joran Jansen (So. Lynden Christian) was the do it all kid for the small school and looked great at the event. Ryan Lash (Kings), Demitri Pence (Orcas Island), and Ryker Roberts (Kings) all rounded out a very impressive small school group that exceeded all expectations.
Rounding out the group was Miles Harlow (8th Grade) out of Orcas who was part of the group that did very well on the day.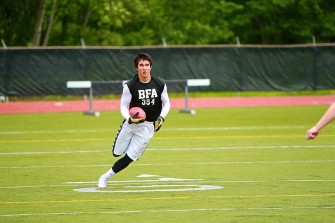 RB
It was an outstanding group of backs that took part in Sunday's event headlined by one of the top freshman on the west coast in Taylor Rapp (Fr. Sehome), and 1A Player of the Year candidate Jake Tumblin (Jr. Coupeville) who just gets better every time we see him.
Rapp is a freak and played with all- everything linebacker Joel Dublanko on Team USA this past off season. He tested through the roof and looks like a kid that will have double digit offers early in his career. He played Varsity ball as a freshman and has an upside that won't quit.
Tumblin went off as a junior going for over 1000 all purpose yards and 10 Tds, and comes back one of our top RB's statewide. He's not a big kid at 5-9, but extremely quick and elusive.
Danny Ziegler (So. Sehome) was a kid that we reported on earlier in the week and looked great on Sunday, testing very well. Him and Rapp provide Sehome with one of the best 1-2 punches anywhere.
Bryce Garcia (Jr. Meridian) was one of the more impressive kids that we didn't necessarily know about before the day. He had played at Bellingham as a sophomore, and had to sit out a year due tot he transfer rule. He projects as a kid that should have a big season.
Clayton Johnson (Jr. Sedro Woolley) was the other junior that we have seen multiple times over the last few years. He looked as good as we have ever seen him on Sunday.
8th grade standout Mason Sali-Orvald of (West Valley) took part in his second combine of the tour, and we can't say enough good things about the kid out of Yakima. Look for him to be one of the better players in Washington in the coming years.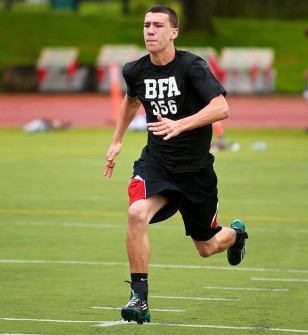 WR
The WR's on the day ended up being one of the top positional groups that we have seen this year on tour. Both Jalani Phelps (Jr. Lynden) and Melvin Walser (Jr. Mount Vernon) MVP'd the event, and showed why they should be considered among the top 5 wide outs in Washington and legit D1 prospects.
Phelps had a big junior year as part of the state championship 2A team, but its his upside that makes him so appealing. Jalani is long and extremely athletic, and looks like a kid that can dominate in almost every one on one setting.
Walser upped his stock just as much as Phelps as he is coming off a monster junior year where he dominated on both sides of the ball. Melvin caught 55 passes for 948 yards and 8 total Tds, while tying for the team lead in picks (2) and finishing second in total tackles (85).
Doing the broadcast for both athletes last season I saw exactly what they brought to the table. They could legitimately be the top 2 WR's in Washington for the 2014 class.
Connor Longoria (Jr. Archbishop Murphy) was another big time talent with size who had a very good day and caught everything in site. He was a 1st team all league athlete last season on a team that doesn't really air it out.
Addison Gifford (Jr. Seattle Prep) had the catch of the day and showed up big with fellow teammate Kevin Kocher (Jr. Seattle Prep) who looked equally good. Prep could definitely help themselves by getting the ball in their hands. Both kids were impressive.
Mack Hughes (Fr.Meridian) is a very talented young WR at the 1a school and will be a factor moving forward. Gage Harlow (So. Orcas) and Caden Lair (So. Lynden) both made their presence known and will be assets to their individual teams.
TE
Mitchell Wohlman (Jr. Mt Vernon) was a kid that didn't catch a bunch of passes last season, but more then looked the part on Sunday. He will be an athlete that the Bulldogs can rely on, especially with Walser receiving constant double teams.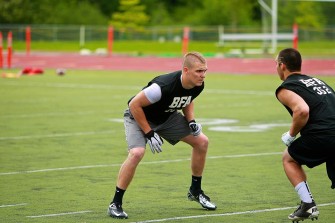 LB
One of the state's top backers Mac McLachlan (Jr. Edmonds Woodway) was the defensive MVP on the day, and looked like a 3 time 1st team all league LB. McLachlan was on point Sunday, and has the potential to be a kid that could play a high level of college football with added size.
Andrew Monlux (So. Kingston) and Tucker Burns (Jr. Kingston) both came out and represented the 5 year old school well. Monlux is a big OLB/DE type at 6-4, and still developing. He has a huge upside. Burns was impressive and will be a leader on the Kingston D making a host of tackles in 2012.
Brody Weinheimer (8th-Lynden) is one of the more talented young LB's in Washington, and more then looks the part. Expect him to hear a lot about him in the coming years.
Joseph Susol (So. Orcas Island) added to the group from Orcas that we liked on the day.
DB
Zach Smith (Fr. Capital) attended his 4th camp/combine of the 5 week tour and was given the defensive MVP for the underclassmen. Smith balled out and looked like one of the best freshman athletes in Washington. He started at the Varsity level on a very talented 2012 Capital team. He will be expected to start on both sides of the ball and be a factor this season.
Antony Randolph (So. Kentridge) was an all league DB as a sophomore, and battled Smith all day for top DB. Randolph will be added to our rankings board as one of the better defensive backs in WA for the 2015 class.
Sedro Woolley's Avery Rooks was as impressive as anybody, leaving us to commend the Cub athletes that were in attendance. His veteran leadership will be huge this year for his team.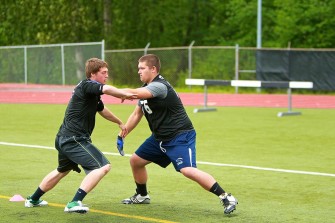 Line
2nd team all league OL Owen Taylor (Jr. Gig Harbor) did well on the day, and will use his 6-4 290 pound frame to lead the Tides next season. He MVP'd the day and will make a significant jump on our rankings board for the 2014 class.
Nick Streubel (Jr. Coupeville) is another good size kid that will be one of the better lineman in the state at the 1a level. He has been a fixture at our events over the off season and a kid we speak highly of.
Spencer Blackburn (Jr. Meridian) could be an outside backer at the next level, but has the frame to play multiple positions. He will return after a 1st team all league season and be a kid that we think could climb our rankings board. He was injured on the day, but not seriously.
Nick Blair (Fr. Everett) is one of the biggest freshman we have ever seen at 6-6 1/2, 350 pounds, and just turning 15 years old. He will be a factor on the varsity line for the remainder of his career, and be a kid that we feel will play some big time college ball once he puts everything together.
Tyler Haggen (Jr. Sehome) had an outstanding day and played aggressive. He will be a key member of the Sehome line and a kid that we were very impressed with on the day.