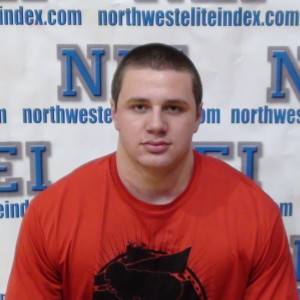 Bellevue D end Shane Bowman (6-4 255 Jr. DE) got some good news Thursday grabbing his second offer from UNLV. The talented lineman comes in our #1 D end and #2 overall lineman state wide, behind teammate and close friend Marcus Griffin.
His upside is through the roof as he comes off the ball as quick as any athlete in the region, and has the ideal frame for a D1 power or speed rush D end.
Referencing the offer Shane says, " I feel very honored and grateful for these opportunities and I look to make the most of them". Bowman is an honor roll student and helped Bellevue finish as one of the top teams in America last season. He could very well have multiple Pac 12 offers before all is said and done, as he is just going to get better.
Shane is an NEI favorite and a kid we have been big backers of for what he does on and off the field. He performed well at our elite events over the off season, and is an athlete that the 30-40 colleges in attendance will love to see at our showcase event (June 30th).
We wish Shane continued success over the off season, as we for see a host of D1 mid major and Pac 12 type programs coming in on him over the next few months.