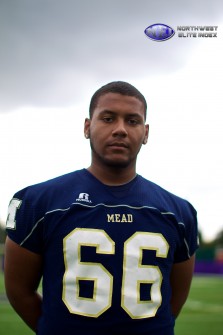 You would be hard pressed to find a more dominant two-way lineman in the state of Washington than Spokane (Wash.) Mead's Jonah Jordan.
While the state of Washington is littered with two-way players, few are able to play both sides of the ball at equally high levels, especially in the trenches. Jordan, however, has the ability to play either offense or defense collegiately. In fact, he recently landed an offer from Army.
"I got my first offer from Army," Jordan tells NEI. "They think I can play either side of the ball for them."
At this stage, Jordan doesn't have a preference which position his plays in college. "I don't know which side of the ball i want to play at the next level yet because I am getting recruited for both," He says.
The 6-foot-2, 265-pounder is currently the No. 5 ranked offensive lineman and No. 6 ranked defensive lineman in the state of Washington for the 2014 class, yet another testament to the talent he displays as a two-way star.
Football may be Jonah Jordan's first love, but it isn't the only sport he thrives in. He is also one of the top shot-putters in, not only the state, but the country. "Currently I am doing track and doing pretty well," Jordan tells us. "I am the 2nd best junior shot putter in the state, but I am the best out of the 4A, and I am 94th in the nation throwing 51'3″."
In addition to his offer from Army, Jordan is seeing a lot of other action on the recruiting front. Eastern Washington, Washington State, Wyoming, Montana, Portland State, Idaho, Boise State and Air Force are all schools that he tells us are expressing lots of interest.
Though recruiting can be a distraction to some student-athletes, Jonah Jordan remains focused on his senior season with the Panthers, and has set his goals accordingly. He says his top focus is to be a great leader to his teammates, and in doing so hopes that will translate into W's on the field. On a more personal level, he wants to be named 1st Team All-State.
The goal that reveals the most about Jonah Jordan is that he wants to "flat-out dominate on both sides of the ball". It's that type of mentality that separates good players from the great ones, and it's that type of competitive mentality that have colleges liking the potential in Jordan.
He also carries a 3.03 cumulative GPA.
Jonah Jordan is a player we fully expect to make a lot of noise his senior season, and look forward to seeing when we travel to Spokane on June 2 for the BFA Combine at Joe Albi Stadium.