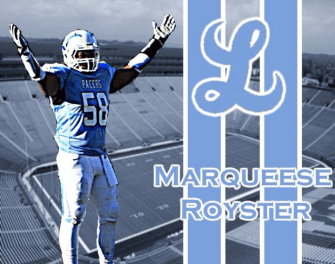 A kid we have been talking about for a long time got some good news today, as the Portland State Vikings made their intentions known offering Lakeridge DL Marqueese Royster (6-1 250 Jr. DL).
As many know Marqueese comes from a long line of professional athletes, which includes the likes of his father (Marcus) who played in the NFL and the Arena League. You also can't forget his uncle Mazio Royster who was All-American at USC before moving on to the NFL (Tampa Bay & Jacksonville).
Referencing the offer and his commitment Marqueese said, "I am blessed, the proud tradition of the Royster D lineman continues at Portland State… I'm speechless right now, thanks for all that you guys have done for me".
Royster has been a fixture at our elite events for the last two seasons, and was part of our Team Oregon squad who beat Team Alaska 40-29 in the Winter Showcase. He is coming off a 2012 season, where he was one of the state leaders in sacks with 10.5.
Marqueese was the 7th Oregon junior D lineman offered by a D1 school so far this off season, making the 2014 group one of the more dominant classes in history.
We want to wish Royster continued success moving forward, as the family has been some of our biggest supporters over the last few seasons. Queese is just getting started and we will keep you updated as things happen.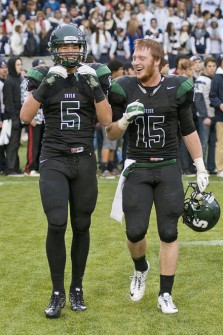 NEI's #2 ranked Jr. WR/S , Mitch Herbert (6-4 190) of Sheldon, got some good news as the Portland St Vikings extended a scholarship offer. This was Herbert's first D1 offer after a junior season that saw him help the Irish to the state title, being a key member of the squad on both sides of the ball.
He says, "I really enjoyed my visit up to PSU and really liked the coaches….It feels great to get my first offer, but also motivates me to keep getting better".
Herbert caught 22 passes for 409 yards and 9 Tds, good for second on the team in 2012. The state championship run was big as Sheldon went (14-0) and finished nationally ranked. Mitch was key defensively as well, making 44 tackles , and having 2 Int's and 3 pass deflections on the year.
Mitch will be a candidate for SWC Offensive and Defensive Player of the Year honors this up coming season. He is extremely athletic and long, and could very well be a safety at the next level. You can't teach size, and Herbert is able to use unique body control to exploit his overall athleticism.
We wish Mitch continued success as he will have multiple options from a scholarship stand point. He's another class kid from a program that we can't say enough good things about.