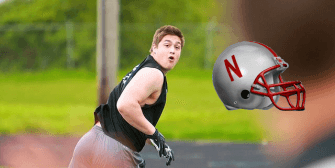 A few days removed from landing three scholarship offers in a single afternoon, nationally ranked TE/DE/OLB Henry Mondeaux (6-5 245 Jr.) grabbed an offer from the Nebraska Cornhuskers. The kid out of Jesuit was offered by Arizona State, Boise State, and Nevada on Tuesday and was stoked about the Husker offer.
"The TE coach came by my school and offered me, it feels great getting offered by a major school outside of the Pac-12". He continued, "Its a big time school that wants me to be a big physical Tight End, and I'm really excited about this offer and learning more about the university".
Henry is quickly becoming one of the most sought after recruits in the country due to his versatility. Its rare for a kid of Mondeaux's size to be able to play equally well on both sides of the ball, at the highest level. He brings a multitude of options to the table as school's are pretty split on where they would have him play.
He now has offers from Oregon, Oregon State, CAL, Washington, Nebraska, Arizona State, Boise State, and Nevada with a host of national powers right on the bubble. Much like Joey Alfieri you could very well see the Notre Dame and USC's of the world offering the standout athlete.
Henry is one of the most likeable and down to earth kids you are ever going to meet, and we look forward to following his progress in the seasons to come.