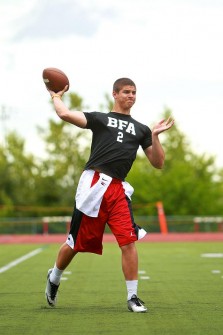 While he isn't the biggest quarterback out there, mesaureing in at just over 6'0 tall and weighing 180 pounds, there is no questioning the stature of Capital (Olympia, Wa.) QB Derrick Becker as a leader. The Cougars lost nearly 30 seniors from a team that made it all the way to the state semifinals, but the talented signal-caller isn't using that as an excuse. He sees it as an opportunity…
"We lose a lot of guys from our team (last year), but it's a chance for the younger guys and guys who are going to be seniors that haven't played much to come out and get it done and get us to the playoffs and hopefully to state again," Becker told Northwest Elite Index at a recent combine. "We've been throwing a lot, working out together and building that bond. As the quarterback, I do my best to get guys organized and make sure we're all on the same page with the same focus. This is my senior season, so I want to go out on top."
As a junior last season, Becker helped lead the Cougars to an 11-3 record and a berth in the 2A State Semifinals where they fell to eventual champion Lynden.
"They were a great team, but I felt like we could have played better," Becker admitted. "We just didn't get it done. You don't get chances like that every year, so you have to come out and play your best every game and if you don't, you can see what happens."
Becker used his accurate and strong arm to put up solid numbers through the air — completing nearly 66% of his passes (89 of 135) for over 1,000 yards with 18 touchdowns and six interceptions — and his legs to run for another 376 yards and six scores.
"I'd definitely say I'm a quarterback that can run and not a runner who plays quarterback," Becker noted. "I feel confident sitting back and picking defenses apart, but if I have to pull it down and run, I can do that too."
On the recruiting front, Becker has yet to haul in his first offer, but he's been hearing quite a bit from the likes of Northern Arizona, Wyoming, Montana, Montana State and Portland State and he's getting ready to hit the camp circuit in order to both garner offers and to improve his game.
"I'm always looking to improve so that's definitely a reason to do it, but also I can get out and see the schools that like me and they can watch me throw in person which is important," Becker said. "I'd like to get out to all of those schools for camps if my schedule works out and then I'll do the Elite 11 Regional in San Francisco and I'm doing the Barton Combines that I can make it to as well.
"I was at the NFTC in Los Angeles and I made the All-Camp team, so I've done pretty well."
With his moxy, athleticism, leadership and skills, Becker is a player that schools fall in love with the moment they watch him throw. The only thing holding him back at this point is his lack of ideal size, but when you measure his heart out, it's bigger than most of the other prep quarterbacks out there and that eventually should lead offers starting to roll his way.