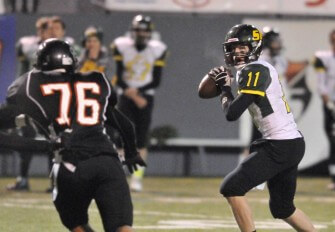 The state of Washington's No. 1 ranked QB for the class of 2015, Spokane (Wash.) Shadle Park's Brett Rypien, picked up his second FBS offer on Monday night from the University of Idaho.
Rypien also currently holds an offer from Washington State.
In 2012 Rypien helped lead Shadle Park to the state playoffs while completing 63% of his passes for 3,574 yards, throwing 29 TD's against just 10 INT's.
"I called Coach [Bryce] Erickson and he told me that he and Coach [Paul] Petrino sat down and watched my film together and wanted to offer immediately," Rypien told NEI. "I told them I'm pretty familiar with Idaho because my uncle Chris Tormey was a head coach there."
Rypien noted that the staff was excited to get him out to Moscow sometime soon.
"I have to see how it works with my schedule, but I'm going to try and make it to their camp and go meet Coach Petrino," he added.
Rypien has held his offer from Washington State since November of last year, and had been anxious to see if all the recruiting interest he was receiving this offseason would amount to another offer soon.
"It feels sort of relieving to finally get my second offer," Rypien says. "I have been working hard every day and to see it paying off is a cool feeling."