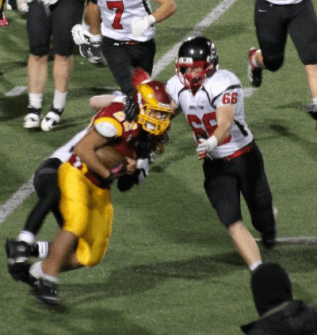 Shelton (Wash.) High School has a strong recent history of producing high-caliber players under head coach Matt Hinkle, and the next player in that line of success appears to LB/OL Brian Nault.
The 6-foot-2, 215-pound Nault earned offensive line honorable mention All-League honors as a freshman, and 2nd team All-League at linebacker as a sophomore. Now entering his junior season, Nault is set to establish as one of the top players in Narrows League.
"Brian Nault is a special kid," Highclimbers' coach Matt Hinkle tells NEI. "He has started at linebacker and guard here the past two years."
Very rarely in the state of Washington do you see a kid start on the varsity level as a freshman, let alone start on both sides of the ball – something indicative of just how good of a player Nault is, and can continue to be.
"He is the most athletic guard we have had here in quite some time. He's able to pull and lead our base offensive plays," Hinkle says. "On defense, he is very physical and fearless. He has great instincts. We are excited about his potential."
Believe it or not, football might not even be Brian Nault's best sport. Nault, a member of the Shelton Ruggers Rugby Club, is a High School All-American and a two-time All-State player.
Nault's success on the rugby pitch has allowed him to travel the country and even the world, yet he manages to stay focused on, and committed to, the upcoming football season at Shelton and the continued growth of his team.
"As a team we are just trying to grow and strengthen our weaknesses, and we're working hard to try and win a league championship," Nault says.
"To do my part in that, I will need to tackle and block well, and be inspirational and motivational to my teammates and peers around me to," he adds.
Other key players at Shelton who will be counted on this season include RB/LB Gordon Henry, DB Colton Hubble, OL Hunter Ostenson and WR Michael Sobotka.
"We have a great coaching staff and the team is one big family," Nault says. "We grew up playing football together so we all know each others style."