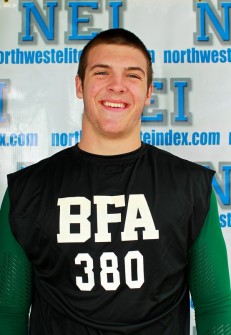 The accolades seem to just keep adding up for one of the nation's top LB's in Joey Alfieri of Jesuit. The Oregon standout went down to the Bay this weekend and won the NFTC MVP LB Award, with a host of the region's top athletes in attendance.
This was followed up by an invitation to the prestigious "NIKE Opening" , representing the state of Oregon as one of the country's top athletes. Alfieri says, "I was really pleased that I was able to compete with the top talent in the nation and stand out as an MVP". He continued, "This was really my first experience with California competition, and I really enjoyed going up against kids with 30+ offers and seeing how I stacked up."
Joey currently holds 13 offers from some of the top schools in the land, and could very well have nationally ranked top 5 type teams vying for his services. The invitation to the Opening was big as 1-2 kids from Oregon usually are invited.
Alfieri added, "At the end of the day I was pleased with my SPARQ score (109.5), but excited to improve a lot before the Opening… I cant wait to represent Oregon athletes, and hopefully a couple other kids from the state will be able to go as well."
As we have said time and time again, Joey is elite on a national level. We will see more scholarship offers and awards come in weekly over the next few months leading up to the season. He and nationally ranked TE/OLB Henry Mondeaux will lead a #1 ranked Jesuit team into 2013, as they travel to Camas to start the season against a #1 ranked Washington team.
We wish Joey continued success, he's a class kid and someone that has the potential to be one of the best players to ever come out of the Northwest.