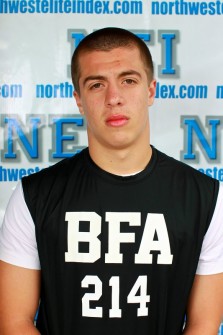 One of the fastest rising QB recruits in the region AJ Woodin (5-11 185 Jr.) doesn't have prototypical quarterback size, but is climbing the charts quickly. Just last month he was the only QB to jump in our rankings, and this past weekend he earned an elite award on a national stage.
The Elite 11 held their regional camp in San Francisco where 99 of the top QB's from around the west competed. Seven quarterbacks took home Golden Gun Awards among all of the QB's in attendance. Woodin had a day he will never forget saying, " It was a great learning experience and I was able to compete against some of the top guys in the nation.. I learned a ton, and I was able to show off what all of the hard work with (TB) Taylor Barton has done".
AJ will lead the Skyhawks into 2013 as one of the 6a state title favorites. They are loaded at the skill positions, and have returning lineman up and down the board with elite level coaching.
Talking more about the event Woodin says, " It was a great confidence booster to get ready for the season, I know its just the beginning as we are only a 100 days away from our opening game, and only a week away from spring ball…I've never been more ready and I expect to have a great senior year, it's nice to have the best receiver in the nation in my opinion (Jordan Morgan) as an option.
There was group of NW QB's in attendance which included the likes of new Skyline QB Kilton Anderson who just transferred from Florida. Oregon State commit Nick Mitchell of Mount Si, along with Jett Even (Tigard), Jess Krahn (Hockinson), Derrick Becker (Capital) and Willy Pflug (Sunset).
The elite level QB's from California in attendance spoke volumes about the event. There were D1 quarterbacks at every turn making the award that much more special. In closing AJ says, "Having the event at the San Francisco 49ers practice facility was neat, I just relaxed and did what Taylor has taught me to do and just competed… It was a lot of fun to beat out some of the big name guys, that hold a lot of offers to win the Golden Gun Award."
Woodin has had a phenomenal off season thus far and we expect him to continue the trend.