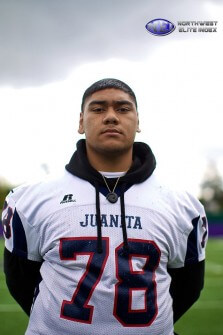 Juanita (Kirkland, Wa.) DT Thomas Toki, a rising 2015 recruit, already had two Pac 12 offers and on Tuesday he received full rides from two more.
Toki, a 5'11.5″, 285-pound defensive tackle for the Rebels, already had full rides from Washington State and UCLA and on Tuesday, head coach Shaun Tarantola informed NEI that his junior-to-be also received offers from Arizona State and Oregon State.
After a solid spring showing, especially at the Barton Academy Combine in Issaquah (Wa.), Toki has really climbed the charts and has schools from all over dropping by his high school campus wanting to get a look at him.
Toki is a two-way stud for Juanita, but projects better on the defensive side of the ball where his low-base, strong lower body and quickness are huge assets.
He's already built himself up into one of the top 2015 recruits in the Northwest and should continue to see his stock rise as the summer camp circuit gets underway.