Click Here For Gunnar Amos Highlights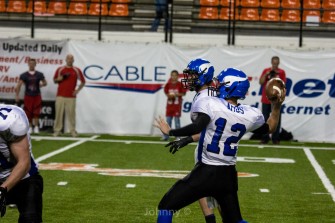 Coeur d'Alene (Idaho) HS has had a nice run of success as one of the top football programs in the state, winning back-to-back state titles in '10 and '11 while also reaching the title game in '12, and consistently producing some of the top players in Idaho.
The Vikings will once again be one of the top teams in the state in 2013, and have a wealth of talent on their roster.
Leading the way for the Coeur d'Alene will be a returning starter at QB, Gunnar Amos, son of CHS head coach Shawn Amos – and Gunnar is the real deal. As a junior in 2012, Amos threw for 2,815 yards and 25 TD's, while rushing for 800 yards and adding another 12 TD's on the ground. He was named the Offensive MVP of the Inland Empire League, and was an All-North Idaho first team QB.
Amos credits much of his success to being able to play for his dad. "Playing for my father is a blessing because I have a great passion for the game, so with him being my coach I can always be in the weight room and always have someone there to coach me at all times," Amos tells NEI. "My relationship with my father is much more than just player-coach. I couldn't wish for a better relationship on and off the field with him than the one we have."
Amos is a motivated player. After falling short in last year's state title game, he is looking to end his career on top. "Our goal as a team for next season is to win a state championship. It's all I've dreamed of my entire life and coming up short last year makes me even more hungry to win it this year," he says. "We have talent but we need to use that talent this offseason and outwork every other team in the state."
"My personal goal is the same – to win a state championship. My numbers don't matter as long as we are winning football games," he adds.
Along with Amos, the Vikings will rely on key players such as massive offensive tackle Matt James, who Amos describes as "the best player ever to come through CHS", WR's Addison Johnson and Jackson Carlson, and TE Chase Blakley – a recent University of Washington commit.
On the recruiting front, Amos holds offers from Army, Idaho State, Weber State and Holy Cross. He says he is also receiving interest from Idaho – where his father played, UW, Washington State and Wyoming, as well as a handful of Ivy League schools and FCS programs.
Off the field Amos holds a 3.6 GPA and plans to take the SAT in June. He also was on the CHS track team running in both the 100m dash and the 4×100 relay.
Gunnar Amos and his Viking teammates are ones we are looking forward to becoming familiar with this season, as they will be playing KingCo Conference members Bothell and Skyline in back-to-back weeks.