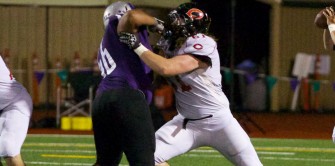 Camas (Wa.) OL Drew Clarkson has seen an explosion of sorts over the past couple of weeks as offers have begun to roll in for him. On Wednesday, the versatile line prospect received his sixth offer when Washington head coach Steve Sarkisian extended a full ride.
"It all happened really fast," Clarkson told Northwest Elite Index. "I hadn't really even heard from Washington, but then coach (Dan) Cozzetto came down to see me and we talked and then today, coach Sark and the rest of the staff all talked to me and when coach Sark got on the line, he made it official and offered me."
The offer from the Huskies joins full rides from Oregon State, Washington State, California, Eastern Washington and Northern Colorado.
"It's all been pretty amazing and humbling," Clarkson said earlier this month. "It's exciting to get these offers and to know that I have options to go to school and have it paid for while I play the sport I love."
Clarkson told NEI that he plans to hit as many camps as possible this summer and that may include heading up to Seattle to take part in Washington's Rising Stars camp, but at this point, he hasn't firmed up plans to attend anything, although he said he wants to go to camp or take an unofficial visit to every school that has offered him.
Clarkson plays the all-important left tackle spot on what will likely be a top contender for the 4A State title this fall. He anchored the spot on last year's team that went to the state semi-finals before losing to eventual state champion Skyline.